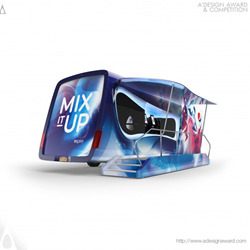 Como, Italy (PRWEB) April 27, 2016
Organized annually in Italy, the A' Design Award & Competition is truly the World's largest and most diffused international design awards programme with over 1275 Winners from 88 countries in 93 different design disciplines in 2015 – 2016 Edition. The competition attracted over 15000 entries from all countries, and the winners were highlighted by an 83-person strong jury panel.
This year, PepsiCo Design & Innovation team was exceptionally successful with their innovative and original designs at the A' Design Award. The luminary design team won 15 awards collectively, most of them being Gold. The recent victories of PepsiCo Design & Innovation team also moved them to the top position among best design teams in the World, and they are now ranked #1 in Design Rankings for United States.
PepsiCo Design & Innovation team won multiple awards in varied design competition categories such as: Food, Beverage and Culinary Arts Design, Packaging Design, Event Design as well as Advertising, Marketing and Communication Design. The wide range of awarded categories communicates the multidisciplinary capabilities of their team.
Discover a Platinum award-winning design by PepsiCo – PepsiCo NSPIRE is a premier mobile food and beverage kitchen that engages both consumers and customers, created in collaboration with award-winning industrial designer Karim Rashid. Featuring culinary, mixology, and beverage innovation, the PepsiCo NSPIRE design approach embodies the fun spirited nature of touchscreen fountain Pepsi Spire and invites consumers to enjoy unique recipes crafted by the company chefs and customizable drinks. PepsiCo NSPIRE provides an opportunity for PepsiCo to engage consumers with Pepsi Spire digital equipment while showcasing culinary innovations. Have a look at the PepsiCo NSPIRE Mobile Kitchen at https://competition.adesignaward.com/design.php?ID=46104 where, you will also be able to check out other awarded works by the talented design team.
About A' Design Award and Competition
The International A' Design Award and Competition (designaward.com) was established in order to create a global awareness for good design practices and principles by promoting excellent design work in all categories from all countries. The ultimate aim of the competition is to push forward designers and companies worldwide to come up with superior projects that benefit society.