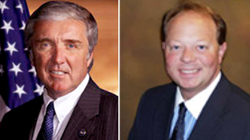 Hartford, CT (PRWEB) April 27, 2016
CEO, Jon Rydberg, on behalf of Orchid Advisors, the Firearm Industry's Trusted Compliance and Operations Experts, and former Director of the Bureau of Alcohol, Tobacco, Firearms and Explosives (ATF), Michael J. Sullivan on behalf of the Ashcroft Law Firm, announce the launch of a cooperative program to deliver strategic advisory, regulatory, compliance and legal services to the firearms industry. Mike will work closely with Orchid's clients in the capacity of a Firearms Industry Executive Advisor.
Mr. Sullivan and Mr. Rydberg will provide the industry with a dedicated cross-functional service addressing both legal and operational needs of the firearm industry's top executives. "We are witnessing a unique period in the history of the industry. Federal Firearms Licensees are experiencing record product demands amidst an evolving political and regulatory landscape and a modernization of the supply chain," says Jon Rydberg, Orchid Advisors CEO. "Our firms see the need for a higher level service line, targeted at strategic issues which include, but are not limited to M&A support and due diligence, investigative support, regulatory strategy, and the implementation of ATF and ITAR compliance, ethics, and governance programs."
While serving as the Director of ATF, Mr. Sullivan also served as the United States Attorney for the District of Massachusetts. Sullivan has over 30 years of legal, compliance and regulatory experience. He has conducted internal investigations, assessed corporate compliance and ethics programs for domestic and international clients, serves as an independent compliance expert for the United Nations, and has extensive policy and regulatory experience. "Those that know the firearm industry best know both the compliance obligations the industry faces and the intensity at which the industry works to insure their products, protected under the 2nd Amendment, are available within the United States. We are excited to team up with Orchid Advisors to provide strategic counsel and advice to the firearms industry. We look forward to complimenting their extraordinary work in assisting clients in navigating the legal and regulatory demands facing the firearms industry."
Mr. Rydberg was recently ranked as an Axial Top 100 Growth CEO and has over 20 years of experience as a global Ernst & Young and Protiviti consulting executive. He is an expert in the transformation of the processes and underlying technology which drive compliance and business performance. He is currently focused on the operational regulatory environment in the firearms industry and leads a team of deep subject matter experts who dedicate their time to ATF, Import / Export, Anti-Corruption and Sarbanes-Oxley related issues. As a complement to this new program, Orchid will be opening a new office in the Washington, D.C. market.
Firearms industry executives seeking assistance can retain the team's service through contacting either firm. Both Mr. Rydberg and Mr. Sullivan will be in attendance at the 2016 Firearms Industry Compliance Conference (http://www.ficconference.com) which hosts participation from a broad range of major Federal Firearms Licensees, the National Shooting Sports Foundation (the event's co-host with Orchid Advisors), and numerous executives from ATF Headquarters in Washington, DC.
About Orchid Advisors
Orchid Advisors helps firearms manufacturers, distributors and retailers achieve compliance and operational excellence through education, technology, software and consulting solutions that reduce
risk, cut costs, and provide expert guidance to make our clients' businesses more successful and efficient. Orchid Advisors is The Trusted Firearms Industry Compliance & Operations Experts and endorsed by NSSF, the National Shooting Sports Association. For more information, please visit http://www.orchidadvisors.com.
About the Ashcroft Law Firm
The Ashcroft Law Firm offers a unique approach that blends precise legal analysis with business management expertise to serve all facets of its client's needs. With a focus on issues of integrity and corporate governance, the Firm provides compliance advice, internal investigations, legal, and consulting services to world-leading clients, including Fortune 500 companies, multi-national corporations and corporate executives. ALF is focused on results, and providing clients with integrity and knowledge in the federal marketplace and across the business spectrum. For more information about the Ashcroft Law Firm, please visit the firm's website at http://www.ashcroftlawfirm.com.
For Orchid Advisors
Michelle Ingram, CFO
Orchid Advisors LLC
+1 860 656 8884
mingram(at)orchidadvisors(dot)com
For the Ashcroft Law Firm:
Michael J. Sullivan
Ashcroft Law Firm
200 State Street, 7th Floor
617-573-9400
Msullivan(at)ashcroftlawfirm(dot)com