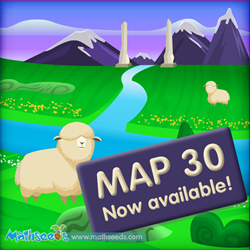 (PRWEB) April 28, 2016
The publishers of Mathseeds, an interactive online learning program designed for students in grades K to 2, have recently expanded their popular math program to include an additional five new math lessons.
The five new lessons cover key mathematical concepts for young children, which include subtracting within 1000, solving multi-step word problems relating to money, using strategies to mentally add and subtract numbers, and more.
The new lessons build on key skills covered in earlier lessons in the program.
With the latest release of Map 30, the program now contains 150 one-on-one math lessons, including hundreds of interactive activities, songs, colorful animations, entertaining characters, and collectable rewards, designed to make learning math fun for young children.
The Mathseeds program is developed by the same team of educational publishers behind the multi-award winning online reading program, Reading Eggs. The program is designed to teach children essential early math and problem solving skills in a highly motivating and engaging way.
Map 30 is set in New Zealand, and children can earn collectable pet rewards for completing each lesson. Each map offers a different set of pet rewards, unique to their habitat, with previous map locations set in China, the Great Barrier Reef, India and other virtual environments.
At the end of each map, children complete a multiple-choice quiz, and if they pass, are awarded a printable certificate. Parents and teachers can also access a dashboard to track individual progress and download detailed reports.
New users can access a free two-week trial of Mathseeds by registering at http://www.mathseeds.com.