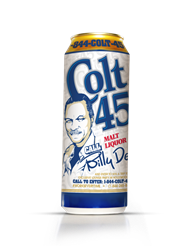 Los Angeles, CA (PRWEB) April 27, 2016
Weeks after announcing his return as ambassador to Colt 45, Billy Dee Williams will soon be in store coolers across the country, featured on the packaging of the iconic malt liquor. Billy Dee Williams has offered his timeless mystique that is respected by young and old alike. Billy Dee speaks his mind about Colt 45, describing a premium malt liquor that has always stayed true to its essence – a product that, like Mr. Williams himself, remains iconic to this day. The campaign will feature print, digital and video content.
"I've enjoyed my long association with Colt 45, and it's my pleasure to, once again, support this iconic beer," said Billy Dee. "I've always found Colt 45 to be a high quality and deeply satisfying beverage. This new campaign gives me the opportunity to speak to a wider audience and remind people that this classic product is here to stay."
As part of the campaign, one lucky winner and a guest will be flown to Billy Dee's exclusive lounge party to be held in Hollywood later this year. Contest details can be found in all stores where Colt 45 is sold. Look for it on 16/24oz. cans and 32/40oz. bottles.
"Billy Dee Williams played a major role in the success of Colt 45," said Dan McHugh, Chief Marketing Officer for Pabst Brewing Company. "He is the definition of class, style and charm. Everyone wants to drink a Colt 45 with Billy Dee."
Born and raised in Harlem, Billy Dee Williams began his acting career on stage, making his Broadway debut at the age of seven. He has acted in over 100 films and is known for his role as the dashingly handsome Lando Calrissian in the Star Wars epics "The Empire Strikes Back" and "Return of the Jedi."
Mr. Williams received critical acclaim for his leading roles in films like "Lady Sings the Blues" and "Mahogany." He additionally played pivotal roles in "Batman," "Nighthawks" and "Motor Kings." Mr. Williams has worked steadily in television as well, in recurring comedic guest appearances on "Jimmy Kimmel Live!" and appearing in series like "Dynasty," "Gideon's Crossing," "General Hospital" and "NCIS," to name only a few. He was nominated for an Emmy for his work in the made-for-television film "Brian's Song," and was recently cast in ABC's upcoming remake of "Dirty Dancing."
In addition to the new ad creative featuring national spokesman Billy Dee Williams, Colt 45 will be rolling out further campaign elements in the coming months.
Learn more at http://colt45maltliquor.com/
Here is a link to the can image: https://pabst.box.com/s/ssoxq44wtc320k4srvh52uljbhos2v6t
Here is a link to the hi-res press photo: https://pabst.box.com/s/g2b0sejxt75nsfaelv19cq54tlkqbqnz 
TWEET THIS: #WorksEveryTime -- @realbdw is back with @ColtFortyFive for a new campaign: https://youtu.be/4rTG07Trb0A
SOCIAL ICONS: INSTAGRAM - @colt45maltliquor TWITTER - @coltfortyfive
ABOUT COLT 45 MALT LIQUOR: Colt 45 is a premium alcoholic malt beverage that is timeless, smooth, and meant to be savored with friends. As spokesman Billy Dee Williams would say, "Colt 45 works every time." Ask for it wherever beer is sold and learn more at http://colt45maltliquor.com/.
Media Contacts:
Larry Fink Mitchell Fink
Email: larry(at)1on1pr(dot)com Email: mitchell(at)1on1pr(dot)com
Phone: 702-249-8586 Phone: 917-439-3679