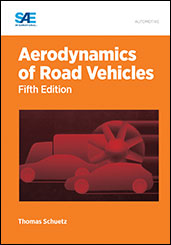 This fifth edition features updated and expanded information beyond that which was presented in previous releases.
WARRENDALE, Pa. (PRWEB) April 28, 2016
Featuring significantly updated and expanded information, Aerodynamics of Road Vehicles, Fifth Edition now is available from SAE International.
The detailed presentation of fundamental aerodynamics principles that influence and improve vehicle design have made Aerodynamics of Road Vehicles the engineer's "source" for information. This fifth edition features updated and expanded information beyond that which was presented in previous releases. Completely new content covers lateral stability, safety and comfort, wind noise, high performance vehicles, helmets, engine cooling, and computational fluid dynamics.
A proven, successful engineering design approach is presented that includes:

Fundamentals of fluid mechanics related to vehicle aerodynamics
Essential experimental results that are the ground rules of fluid mechanics
Design strategies for individual experimental results
General design solutions from combined experimental results
The aerodynamics of passenger cars, commercial vehicles, motorcycles, sports cars, and race cars is dealt with in detail, inclusive of systems, testing techniques, measuring and numerical aerodynamics methods and simulations that significantly contribute to vehicle development.
Edited by Thomas Schuetz, Aerodynamics of Road Vehicles is a collaborative work from 27 authors, making the new edition an excellent reference tool and an indispensable source for the industry's vehicle engineers, designers, and researchers, as well as for enthusiasts, students, and those working in academia or government regulatory agencies.
Published By: SAE International
Binding: Hardbound
Product Code: R-430
ISBN: 978-0-7680-7977-7
Price: $225.00 - SAE International Members save up to 20% off list price.
For more information, including free front and back matter, or to order Aerodynamics of Road Vehicles, Fifth Edition, visit http://books.sae.org/r-430/.
To request an electronic review copy of the book, email pr(at)sae(dot)org. Forward published reviews to Shawn Andreassi at pr(at)sae(dot)org or SAE International, 400 Commonwealth Dr., Warrendale PA, 15096-0001, or to receive a print copy of the book or another equivalent SAE International book.
SAE International is a global association committed to being the ultimate knowledge source for the engineering profession. By uniting over 128,000 engineers and technical experts, we drive knowledge and expertise across a broad spectrum of industries. We act on two priorities: encouraging a lifetime of learning for mobility engineering professionals and setting the standards for industry engineering. We strive for a better world through the work of our charitable arm, the SAE Foundation, which helps fund programs like A World in Motion® and the Collegiate Design Series™.