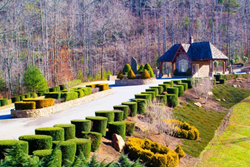 Despite low inventories and rising prices, buyers on a budget can still find quality Western North Carolina master-planned developments with home prices below the median price found in the greater Asheville area.
Bluffton, SC (PRWEB) April 28, 2016
Marian Schaffer, Principal and Founder of Southeast Discovery, a real estate consulting firm specializing in guiding Baby Boomers with their real estate needs in the niche markets of retirement relocation and second homes in the Southeast region, recently commented on the availability of two affordable master-planned communities in Western North Carolina despite the rest of the region's rising home prices.
"Although population growth has slowed somewhat, housing inventory has declined in the greater Asheville area," said Schaffer. "As of fourth quarter last year, inventory was well under the six-month mark in homes priced below $450,000. Inventory of less than six months usually translates into a seller's market putting upward pressure on home prices. Yet we're seeing the communities of Blacksmith Run near Hendersonville and Bill's Mountain in the Lake Lure area offer affordable home prices and outstanding value."
Although the real estate market was up in almost all counties of Western North Carolina in the last two years, the average cost of living in the area's major city of Asheville was still below the national average in 2015. Asheville is expected to add 50,000 residents by 2030 according to the Asheville Citizen-Times; this growth will continue to build the area economically which will, in turn, continue to put pressure on home prices.
According to Schaffer, despite low inventories and rising prices, buyers on a budget can still find what they're looking for: master-planned developments with all of the amenities completed, low home owner's association fees, and home prices below the median price found in the greater Asheville area. Two successful communities in the Western North Carolina area that fit this bill and offer convenience to Asheville are Blacksmith Run and Bill's Mountain.
Blacksmith Run, a gated community by the historic town of Hendersonville, has home and lot packages starting in the low $200,000's and is convenient to both Asheville and Hendersonville. Just 180 homes are planned at the valley community of Blacksmith Run; there are currently seven under construction. All homes are fully customizable and the community offers underground utilities, city water and community sewer. Because the community is located at lower elevations in what's called the thermal belt, residents enjoy milder winters and year round outdoor activities. Due to its convenience to the job market in Asheville, there is a diverse mix of retirees and young families among the 50 current owners and residents at Blacksmith Run.
In the popular Lake Lure area of Rutledge County is the master-planned community of Bill's Mountain, uniquely positioned on a "stand alone" mountain. The 800-acre gated community offers considerable amenities which include a 6,500 square foot clubhouse, a stocked trout pond, tennis courts, fitness center, swimming pool, hiking trails, and even a helipad for residents. A two-bedroom condo can be purchased at Bill's Mountain for $229,000; large acre-plus, single-family home sites are also available. There are six new homes currently under construction. Because of the community's 10-minute proximity to Lake Lure, the current 200 property owners are an equal mix of full-time and second-home owners. All the amenities are complete at Bill's Mountain and property owners enjoy the added benefit of owning property in a debt-free community.
"In addition to the already low inventory levels, there is upward price pressure in the mid-price range of homes. As higher-priced housing above $450,000 experiences a higher demand, this real estate activity continues to pressure both pricing and available inventory in the greater Asheville market, straight across the board" said Schaffer. "These two communities, developed by Vista Development, are worth a look for buyers who want to reside in Western North Carolina and are seeking home prices below the median price found in the greater Asheville area."
About Southeast Discovery
Since 2004, Southeast Discovery has been a trusted resource for candid information and insight on communities, developments, and general real estate in the Southeast. Through its highly-ranked web portal, newsletter and blog and its one-on-one work with clients, Southeast Discovery helps buyers actively looking for a retirement or second home in the Southeast navigate the process of identifying the right area and community for their needs. To learn more, visit http://www.southeastdiscovery.com/