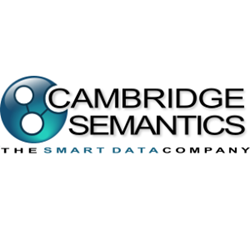 Boston (PRWEB) April 27, 2016
Cambridge Semantics, the leading provider of Smart Data analytic and data management solutions driven by semantic web technology, today announced that it has been named to The Silicon Review's "20 Fastest Growing Big Data Companies of 2016."
"From pharmaceutical, life sciences, financial services and other markets, Cambridge Semantics serves the needs of end users facing some of the most complex data challenges in the industry," said Manish Pandey, editor-in-chief, The Silicon Review.
Cambridge Semantics leverages its award-winning Smart Data Platform to revolutionize smart data discovery, analytics and data management across the enterprise and on the web at big data scale. The company's solutions enable IT departments and end users to link and contextualize, govern, discover and analyze big data from diverse sources, both from within and across organizational boundaries. Cambridge Semantics solutions include Anzo Smart Data Lake, Anzo Smart Data Manager and its in-memory graph database, Anzo Graph Query Engine.
"We are honored to be recognized by The Silicon Review's panel of experts and thought leaders," said Chuck Pieper, CEO and chairman, Cambridge Semantics. "This recognition is a reflection of our tremendous growth and validates the accelerating market adoption of our Smart Data solutions which are driving enterprise-wide analytics at speed and scale, with built-in IT governance and data provenance."
For a complete list of companies recognized by The Silicon Review, visit: http://thesiliconreview.com/magazines/sr-20-fastest-growing-big-data-companies-2016/.
About The Silicon Review
The Silicon Review is the world's most trusted online and print community for business and technology professionals. Its community members include thought-provoking CEOs, CIOs, CTOs, IT VPs and managers, along with diverse IT professionals.
The Silicon Review encompasses nine technology and vertical communities: Software, IT Services, Cloud, Mobile, Big Data, Security, Telecommunications, Hot Start-ups and The Best Companies to work for. Each community leader is a proven subject matter expert who collaborates with industry gurus, technology managers, researchers, top technology journalists, consultants and industry analysts. The Silicon Review team strictly focuses on accurate and timely delivery of informative articles that enhances spirited discussions in the future.
About Cambridge Semantics
Cambridge Semantics (CSI), the Smart Data Company™, is an enterprise analytics and data management company. It enables customers and partners to rapidly build interactive, real-time smart data solutions based on its Anzo Smart Data Platform™ (Anzo SDP).
IT departments and business users gain better understanding and data value through the semantic linking, analysis and management of diverse data whether internal or external, structured or unstructured. The Anzo SDP smart data solutions are delivered with increased speed, at big data scale and at a fraction of the implementation costs of using traditional approaches.
The company is based in Boston, Massachusetts.
For more information visit http://www.cambridgesemantics.com or follow us on Facebook, LinkedIn and Twitter: @CamSemantics.