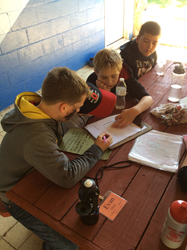 "The experience was awesome! Our students had a wonderful time."
Brinkhaven, Ohio (PRWEB) April 28, 2016
It's an exciting time for Nature's Classroom at Pilgrim Hills Camp! Kiira Olszko has been named new Program Director for the Web of Life Field (WOLF) School Nature's Classroom program in Brinkhaven, OH, a youth education program emphasizing team building and experience-based learning in an outdoor setting. The news comes after Pilgrim Hills Camp's new management by United Camps, Conferences and Retreats (UCCR), a long established non-profit camp and retreat management organization.
Olszko has been on staff at Pilgrim Hills Nature's Classroom since 2010, working as a Summer Camp Staffer, Instructor and then Assistant Director. Her appointment as Program Director is a natural and fitting progression, and already her passion for the program, the outdoors and youth education is inspiring renewed excitement throughout the Nature's Classroom experience.
"Nature's Classroom was well organized and a great use of time!" gushed Susan White, a teacher at East Elementary in Athens, OH. "The experience was awesome! Our students had a wonderful time."
As Director, Olszko works closely with teachers as they choose from a variety of group-oriented activities, such as Team Building, Natural Science, Social Studies, Creative Arts, and Math. Olszko then adapts the programs to best fit the needs and interests of a given group, ensuring an educational and enjoyable experience for the students and program participants. Olszko is now hard at work to enrich the programs offered by Nature's Classroom even more, creating new activities for the Activity Guide.
Refreshing the Nature's Classroom experience even further is UCCR's expertise in managing and operating Pilgrim Hills Camp. UCCR was created over 40 years ago so that nonprofit organizations could enjoy beautiful sites for their camping and retreat experiences, and they currently manage properties throughout the United States. Their mission of "creating partnerships to provide positive life-changing experiences" is two-fold: fully supporting programs such as Nature's Classroom while they are enjoying the camp facilities; and providing excellence in the stewardship of the properties with which they have been entrusted. The partnership has given Nature's Classroom renewed confidence that their facility has a steward who cares, while allowing Nature's Classroom to put their focus where it matters most: into their educational programs and the students they serve.
Initially founded in 1973, Nature's Classroom has been operating at Pilgrim Hills Camp since 1980. Located in Brinkhaven, OH, approximately 1.5 hours northeast of Columbus, Pilgrim Hills Camp boasts 375 acres of rich woodlands, meadows, streams, trails, and a lake. The locale is the perfect setting for Nature's Classroom, which provides customizable programs designed to give students a hands-on experience in the outdoors while supporting classroom curriculum, Next Generation Science Standards (NGSS) and Ohio's Learning Standards. Nature's Classroom programs range from single day field trips to 3-5 day/night residential camp experiences, and are supported by Pilgrim Hills Camp's spectacular facilities, which include cabin lodging, family-style dining for groups up to 200, and a variety of recreational options.
To learn more about Nature's Classroom visit http://www.wolfschool.org/natures-classroom. Ready to sign-up your group? Email Kiira Olszko at NaturesClassroom(at)uccr(dot)org or call 614-813-7801.
Pilgrim Hills Camp is owned by the Ohio Conference of the United Church of Christ.