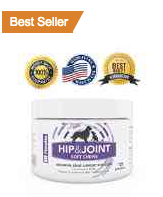 Delray Beach , FL (PRWEB) April 28, 2016
Nootie has announced the launch of Glucosamine Chondroitin Dog Treats for canines with hip and join pain. Available in packages of 120 soft chews, the glucosamine for dogs is intended as a joint supplement for those with arthritis, dysplasia, and other conditions. In addition, the supplement protects against future damage. Pure ingredients ensure it is healthy and safe for all dogs.
The glucosamine chondroitin for dogs in this supplement is not diluted and absorbs into the blood stream well compared to lower quality products on the market. It is suited for any size or breed of canine and repairs and protects joints even for those that have suffered from and lived with joint pain for years. An aging dog can therefore continue to live a happy and playful life.
It is not like any other joint medicine traditionally given to dogs. Customers are ordering this item quickly and it is rapidly selling out. In addition to the primary ingredient, glucosamine for dogs also includes methylsufonylmethane, sodium chondroitin sulfate, and hyaluronic acid. Small amounts of fish oil, flaxseed oil, lecithin, glycerin, and dried why powder are also included.
The actual dosage varies by weight. In the first 4-6 weeks, dogs from 5-10 pounds require just one-half a chew daily, while those from 10-29 pounds get one chew, 30-59 pounds get two, and dogs 60 pounds and over get three chew daily. Maintenance dosages vary from ½ a chew every other day for 5-10 pound dogs to 1-2 chews daily for dogs 60 pounds and over. Exact instructions are provided on the rear of the container.
https://www.youtube.com/watch?v=ZYTmMHz8qHk
Available now on Amazon, the Glucosamine Chondroitin Dog Treats come with a lifetime warranty and are available at a low price of $39.97. http://www.amazon.com/Nootie-Glucosamine-Chondroitin-Supplement-Dysplasia/dp/B018R9UHU8 Learn more about and purchase the treats with glucosamine chondroitin for dogs on Amazon.
About Nootie
Nootie is a retailer of treats, shampoos, anti-itch sprays, fragrances, and wellness products for dogs. It began with a line of long-lasting, pleasantly scented shampoos. Today, it offers healthy, grain-free treats plus glucosamine chondroitin for aging dogs with arthritis and chronic pain. All products are made in the U.S.A.