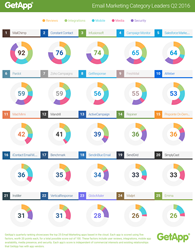 MailChimp's impressive scores– a perfect 20 in user reviews, media presence, and integrations, as well as 19 for its mobile offering– shows just how dominant this app is in the email marketing arena
Barcelona (PRWEB) May 02, 2016
In GetApp's top email marketing apps ranking for Q2 2016, MailChimp once again topped the list, marking the 4th quarter in a row that it has led the field for this category. Constant Contact took second spot, with Infusionsoft close behind in third.
When putting together the ranking, five different criteria are taken into account: integrations, the rating and availability of an iOS and Android app, media presence, security information, and user reviews. Each aspect is marked out of 20, with a total potential high score of 100.
GetApp's quarterly ranking is designed to help small to medium businesses have the information they need at their fingertips to pick the best cloud app for their company.
"MailChimp's impressive scores– a perfect 20 in user reviews, media presence, and integrations, as well as 19 for its mobile offering– shows just how dominant this app is in the email marketing arena. GetResponse, however, is challenging MailChimp with its mobile app, also scoring a 19 for its iOS and Android apps, while Rejoiner posted an impressive security score of 17, the highest score for this category," says says Suzie Blaszkiewicz, project manager for the ranking at GetApp.
Check out the full list of the top 25 apps for email marketing by clicking here.
More about GetApp: GetApp, a Gartner company, is the leading premium business app discovery platform on the web. Headquartered in Barcelona (Spain), GetApp serves as a platform for user-generated and editorial reviews of software and apps for businesses.
###