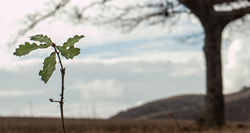 Alexander Dumas said 'truffles make women more tender and men more loveable'.
(PRWEB UK) 2 May 2016
La Cerqua - which in the local dialect means 'Oak Tree' - provides wild fresh truffles and truffle delicacies directly from Italy to foodies, gourmet stores and restaurants around the world using sustainable local traditions and a healthy respect for nature.
They believe their new Adopt a Truffle Tree programme makes the perfect gift to yourself or a loved one as well as being a gift to the environment. Not only can you watch your tree grow but have the delight of enjoying personalised genuine Italian truffle and truffle products delivered to your home.
Truffle hunter and co-founder of La Cerqua, Daniele Angeli said, 'We think this is a great idea and a good way to maintain the ancient italian tradition of truffle hunting with italian truffle dogs taught by my grandfather who learned it from his grandfather and so on for generations'.
Daniele who has been truffle hunting with dogs since he was 9 years old is also introducing the newest member of the family Giulietta to the art of truffle hunting. Giulietta is a Lagotta Romagnolo Water Dog, the Italian breed traditionally used for truffle hunting. Although only a puppy Daniele has said that she is a natural. 'She is young but she has a great nose she will maybe one day be as great as her father romeo and her mother spuma'.
La Cerqua Ltd. is a UK company with its base in Italy. Find out more about their sustainable adoption programme and gourmet Italian food products on the website. Visit: http://www.lacerqua.com