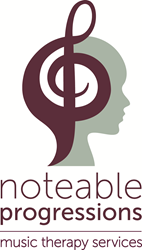 "We are excited to be increasing access to music therapy services and music-based programs while strengthening relationships with our community partners and neighbors," Darcy Lipscomb, Executive Director
Frederick, MD (PRWEB) April 29, 2016
Noteable Progressions Music Therapy Services to hold an Open House on Saturday, May 14th, 2016 from 11AM-3PM at 9093 Ridgefield Drive, Suite 204, Frederick, MD
Noteable Progressions, a provider of music therapy for all ages, early childhood music classes, and lessons, will be hosting an Open House on Saturday, May 14th, 2016 from 11AM-3PM to celebrate the opening of their new center at 9093 Ridgefield Drive, Suite 204, Frederick, MD. More details are available here: http://www.noteableprogressions.com/open-house-may-14-2016/
Notable Progressions would like to welcome the community to their new center. There will be family-friendly events including jam rooms for all ages and face painting. Throughout the open house, board certified music therapists will be available to answer questions and provide tours.
Rita's Italian Ice will be there between 11AM-12:30PM sharing samples of their recently released All-Natural Italian Ice. At 1:30, there will be a community drum circle open to all ages and abilities. No musical talent required!
Before the festivities begin, families interested in early childhood music classes are invited to come at 10AM to try Family Sprouts at half price ($10). All other events throughout the day are free.
"We are excited to be increasing access to music therapy services and music-based programs while strengthening relationships with our community partners and neighbors," shared Darcy Lipscomb, Executive Director at Noteable Progressions.
About Noteable Progressions Music Therapy Services
Noteable Progressions provides music therapy services and music-based programs for families, agencies, and schools. Services include group and individual music therapy sessions and consultations for children, adults, and seniors as well as early childhood music classes. Noteable Progression has served the area since 2011 and has operations in Frederick, Washington, and Montgomery counties as well as Washington, DC. For more information, visit http://www.noteableprogressions.com.