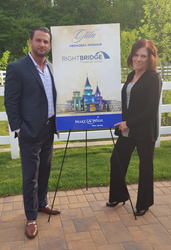 Cranford, N.J. (PRWEB) May 03, 2016
Make-A-Wish® New Jersey, which strives to grant the wishes of children with life-threatening medical conditions, is thanking Keith Gebert, the CEO of RightBridge Financial Group, for sponsoring the live auction that will take place on June 9, 2016 at the organization's 2016 Gala in Monroe Township, NJ.
This is the second consecutive year that Keith is sponsoring the special event. Last year, he donated 10 percent of his firm's net revenue. This year, he has already committed 15 percent, and hopes that he can generate support through his "Friends and Family Page" at http://site.wish.org/goto/keith to reach 20 percent.
"I'm very impressed with what Keith has already accomplished, both personally and professionally, and his commitment to Make-A-Wish New Jersey is a testament to this," commented Buddy O'Donnell, Make-A-Wish New Jersey's Director of Corporate Alliances. "I'm also pleased to note that his philanthropic leadership and commitment has earned him a place on the 2016 Gala's Honorary Dinner Committee."
"In January of 2015 I was at a conference in Orlando, Florida and a speaker shared an amazing and inspiring personal story of how Make-A-Wish bought some desperately needed inspiration, hope and smiles into his child's life," commented Keith, who in honor of Mother's Day will proudly be attending the 2015 Gala with his mother, Sandy. "One introduction led to another, and it wasn't long before I connected with the incredible team at Make-A-Wish New Jersey. I can't describe what an honor it is to support the work they do every day, and I can't wait to attend the 2016 Gala on June 9!"
More information on Make-A-Wish New Jersey's 2016 Gala is available on the organization's website.
More information on Keith Gebert is available through an interview featured on LIFE&Health Advisor Magazine, and on his firm's website.
Supporters who want to help Keith reach the 20 percent fundraising target are gratefully encouraged to do so via his fundraising page http://site.wish.org/goto/keith. The deadline for contributing is April 30, 2016. All contributions can be made conveniently and securely online, and are tax deductible.