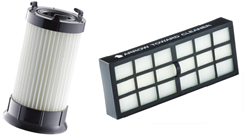 Charlotte, N.C. (PRWEB) May 02, 2016
Have you ever changed your vacuum's filter? If you are like most consumers, your answer is likely no. Vacuum filters are the often forgotten and rarely maintained part of most vacuum cleaners. Many consumers don't realize, for instance, that bagged or bagless, stick or upright, nearly all vacuums have filters and nearly every vacuum depends on its filter for maximum suction power and allergen-fighting ability.
With spring allergy season underway, and more than 100 years of practical cleaning expertise, Eureka® offers the following top five reasons to change a vacuum's filter today:
5. Vacuums pick up on average 45 grams of household dust a week, 14% of which is considered fine dust that can contain harmful allergens and pose a health risk, particularly for those with asthma and allergies.*
4. Many different allergens accumulate in an average home, including mold, pollen, dust mites, dander, fungi and more. In fact, humans shed about 1/5th an ounce of dander each week onto their floors. Want tangible proof? About 80 percent of the material seen floating in a sunbeam is actually skin flakes. They are microscopic, invisible to the naked eye and can often come to rest on floors.**
3. Vacuums with a HEPA filter trap and remove allergens like pet dander, mold spores, dust and other allergens up to 75 times smaller than a human hair, which would otherwise multiply and cause increased discomfort for asthma and allergy sufferers and those with respiratory problems. This can be even more important in spring and fall months when allergen levels reach their peak.
2. A clogged vacuum filter impacts the performance of a vacuum and can even cause it to overheat. Suction power is one of the most important things consumers look for in a vacuum, and when filters are not maintained, the suction power purchased decreases – and consumers receive less value for their hard earned dollar.
1. Your vacuum filter is probably clogged right now. In a bagless vacuum, around eight percent of the dust picked up ends up on the HEPA filter, a number that falls to four percent in a bagged cleaner. According to Eureka experts, this means a bagless vacuum's HEPA filter should be changed after every 24 vacuuming cycles. For families cleaning a couple times a week, that equates to filter changes every two to four months to keep the vacuum cleaning at peak performance and maximize the collection of allergens.***
"Now is the time to look under the hood – or dust cup – of your vacuum and do some much needed upkeep on your cleaner so it can continue doing a superior job for you," said Jillian Hillard, Director of Brand Marketing for Eureka.
Vacuum filters can be found in the vacuum aisle at most major retailers, including Walmart and Target, as well as online at Amazon.com. To find the right vacuum filter for Eureka vacuums, consumers can use the "Find the Right Accessory" function on the bottom left hand side of http://www.eureka.com or call 1-800-282-2886.
*Based on results from an Electrolux Lab Study. Electrolux markets floor care products under the Eureka brand name in the U.S.
**According to http://www.ehso.com/ehshome/dustmites.php
***Calculation based on assumptions from Electrolux. Results may vary from cleaner types, airflow and voltage of the cleaners
###
About Electrolux Small Appliances North America
Electrolux Small Appliances North America (ESA-NA) leverages consumer driven insight to manufacture and market innovative small appliances for the home. The company markets floor care, air care and fabric care products, as well as small kitchen appliances, to consumers under its well-known Eureka, Electrolux and Frigidaire Professional brands. It also sells high-quality commercial products under its Sanitaire brand name and offers central vacuums made by its Electrolux Central Vacuum Systems division (formerly known as Beam Industries). ESA-NA is based in Charlotte, N.C., and is a part of The Electrolux Group. Visit http://www.electroluxappliances.com, http://www.eureka.com, http://www.frigidaire.com, or http://www.beamvac.com for more information.