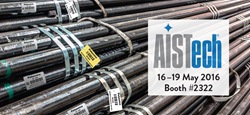 Polyonics offers the broadest array of barcode tag and label materials for 200°C to 600°C metal processing ID and tracking applications.
Westmoreland, NH (PRWEB) May 10, 2016
Polyonics will introduce two newly developed materials for use in thermal transfer printed barcode tags at the 16-19 May AISTech in Pittsburg. The new polyimide based XF-615 provides a high degree of abrasion resistance at temperatures up to 600C while the new XF-608 paper laminate offers increased tear resistance at an economical price for 200C tracking applications.
The 227 µm XF-608 represents a breakthrough in the high temperature, low cost paper tag market. It provides high contrast, thermal transfer printable surfaces and operates effectively at 200°C with short exposures up to 300°C. It produces minimal curl post heat cycle and provides nearly three times the tear resistance of other leading tag materials.
The 127 µm polyimide based XF-615 tag material includes durable, thermal transfer print surfaces that provide high abrasion resistance and maintain high contrast barcodes for improved readability at operational temperature of 500°C.
Other tag materials being exhibited include;
XF-610 and XF-612 (white and yellow): 127 µm polyimide with operational temperatures of 300-400C and short exposures up to 600C
XF-660: 229µm aluminum composite with operational temperatures of 350-450C and short exposures up to 500C
In addition, the following thermal transfer printable materials for barcode labels will be shown;
XF-803: 50µm aluminum can be applied up to 300°C and operates up to 500°C with short exposures to 600°C
XF-808: 50µm aluminum operates up to 300°C with short exposures to 350°C
XF-519: 50µm polyimide offers operational temperatures up to 225C with short exposures up to 325°C
The label materials all include high contrast print surfaces and aggressive permanent acrylic or ultra-high temperature silicone pressure sensitive adhesives (PSA).
Polyonics at a Glance
Polyonics manufactures high temperature materials used in thermal transfer printable labels and tags, engineered tapes, laser markable labels and flexible substrates. The materials are used by converters and OEMs worldwide to track, insulate, isolate, bond, prevent the propagation of fire and protect against ESD in electronics, metal processing, automotive, aerospace and medical applications.