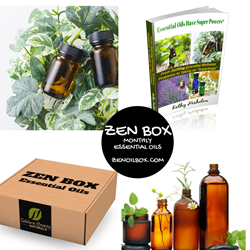 Reading a detailed and thorough review that includes pictures is helpful when evaluating a subscription box.
St. Petersburg, FL (PRWEB) April 29, 2016
Monthly subscription boxes are all the rage, and "My Subscription Addiction" takes a close look at products on the market. They recently reviewed the ZEN BOX, the aromatherapy subscription box.
ZEN BOX delivers three new essential oils each month. Typically there are two single essential oils (like lavender or frankincense) and one Zen Blend (like immune boost, sublime sleep or de-stress blends) Each quarter, a 4th item is added to the box. The bonus product is something that incorporates essential oils or is related. The April ZEN BOX bonus item was a lemon cinnamon essential oil soap.
ZEN BOX delivers a HOW TO guide and profiles by email when the box ships. Cut-off each month for same month delivery is the 15th, and the box ships the 20th.
The review at "My Subscription Addiction" is found here.
Further information on ZEN BOX can be found here.
The founder of ZEN BOX and Sublime Naturals, Kathy Heshelow, recently published a book entitled "Essential Oils Have Super Powers", now available on Amazon.