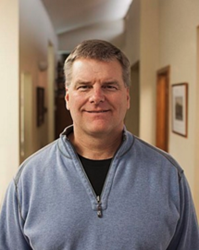 Wenatchee, WA (PRWEB) April 29, 2016
Erik Holmberg, DDS is a leading dentist in Wenatchee, WA certified to provide advanced oral care through the use of the BIOLASE WaterLase iPlus 2.0™ laser. This technology reduces or eliminates the pain and trauma of many dental procedures by vaporizing decayed tissue and bacteria, so there is no need for scraping, drilling or shots. People who experience anxiety over scheduling an appointment no longer have to worry about the pressure, numbness and bleeding that are typically a part of these visits.
Infection can be difficult to combat in the oral cavity. Bacteria become trapped beneath the gums where brushing and flossing cannot reach, so even a person with excellent oral hygiene habits is susceptible. When there is an issue such as gum recession, the problem is exacerbated because the pockets between the gums and the roots are not easily cleaned. Using the BIOLASE WaterLase iPlus 2.0™ system rather than traditional hand instruments, Dr. Holmberg is able to eradicate bacteria and infection easily. The precise beam of light is delivered via an ultra-thin fiber that can be inserted below the gum line to access all the areas affected. Because the single-use laser tips are disposable, patients are not exposed to cross contamination.
The laser cuts soft and hard tissues without pressure and heat, unlike the dental drill a dentist in Wenatchee, WA typically uses. The precision allows Dr. Holmberg to preserve more of his patients' original tooth structures for strong, healthy smiles. Patients who require oral surgery also benefit from the use of laser dentistry. Research has shown improved wound healing and new connective tissue attachment in patients. The laser tool can also be used to harden the bonding material that affixes fillings so they are stronger and more secure, and to activate many tooth whitening products for accelerated results.
Anyone seeking a dentist in Wenatchee, WA can take advantage of the benefits of the BIOLASE WaterLase iPlus 2.0™ system at Dr. Holmberg's practice. More information about laser technology and services provided is available on his website.
About the Doctor
Dr. Erik Holmberg is a general dentist offering personalized dental care for patients in Wenatchee, WA. Dr. Holmberg and his team provide a wide range of services and are committed to high quality, professional care through the use of laser dentistry and other advanced techniques. To learn more about the services offered by Dr. Holmberg please visit his website at http://www.drholmberg.com or call (509) 663-1161 to schedule an appointment.