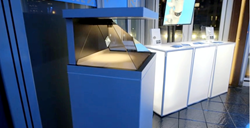 Chicago, IL (PRWEB) April 29, 2016
Chicago area based hologram rental company 3D Hologram Rentals is pleased to announce a new limited time discount program designed to help companies take advantage of this 3D hologram display in the local Chicago and Midwest areas. Modern holograms are three-dimensional images projected with both clarity and depth. These new holograms make a stunning statement in a wide variety of settings, making them popular at company meetings, conventions, special galas, trade shows, corporate events, or other special gatherings.
View the holograms displays in action on their YouTube Page
In fact, modern holographic technology has a wide array of uses, from demonstrating manufacturing and other complex systems to showcasing a three dimensional piece of art created from light. The rental devices that 3D Hologram Rentals make available are self-contained, easy to set up boxes that will display the desired images in three dimensions. These devices work in high-light areas, so there is no need to dim the overall illumination in order to see the illusion. In order to make this device more widely available, 3D Hologram Rentals is offering a 20% discount for business around the Chicago metropolitan area, Chicago Suburbs and surrounding midwest areas for a limit time ending summer of 2016.
"This kind of hologram technology really is the next big thing," said Mark Smith, founder and creative director at 3D Hologram Rentals. "We want to make sure people have the chance to have this kind of high-end experience and really be wowed by what they see." Smith went on to explain that he has received calls from many corporations and companies looking to set up holograms as a way to galvanize employees, show appreciation, or communicate a certain sense of elegance and innovation.
These holograms are, in fact, already being deployed in a wide variety of settings. Event planners, in particular, have found that these devices are an excellent way to bring an instant degree of class and uniqueness to any event--whether it's a high -end event, a corporate meeting for shareholders, or an business conference and trade show. The content of the hologram can be custom created, ensuring that the image matches the theme or purpose of the event. The 20% discount currently offered by 3D Hologram Rentals makes this hype even easier to achieve.
The discount itself runs through Summer of 2016. The rental period for these devices can run anywhere from a one-day engagement to a permanent installation. If you are interested in renting a 3D Hologram for your event, contact 3D Hologram Rentals at info(at)3DHologramRentals(dot)com.
More information is available via http://www.3DHologramRentals.com or by calling their office location at 630-620-0000
About 3D Hologram Rentals: Chicago Based 3D Hologram Rentals is a hologram device rental company with a well-earned reputation for technical prowess and technological innovation. To see samples of their work or get more details on their pricing models, visit their website at http://www.3DHologramRentals.com.
When you work with 3D Hologram Rentals, you are working with leaders in the industry, exceptionally focused on creating new experiences for your guests and clients.
3D, life-like images in a powerful POP or trade show tool. • Incorporate physical elements and actual products into your display. • Set up for any environment - just add power. • Incredible interactive control over your imagery. • Sleek, modern design that puts the focus on your product or company. • Build audience engagement and interest. • Exceptional return on investment.
Contact us at info(at)3dhologramrentals(dot)com or call us at 630-620-0000 to rent now.