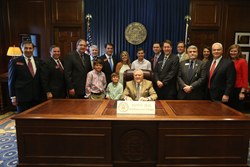 This is what hope looks like.
Atlanta, Georgia (PRWEB) April 29, 2016
On Tuesday, April 26, 2016 members of the HomeTown Health network, a network of 60 rural hospitals across the Southeast, celebrated the signature of Gov. Nathan Deal on SB 258, the "Rural Health Care Relief" Bill.
The bill, which was sponsored by Rep. Geoff Duncan (R - Cumming), offers a 70% tax credit to individuals and corporations which donate directly to a "rural hospital" in Georgia, and goes into effect January 1, 2017. The bill provides for up to $50 million in state tax credits available in 2017, $60 million in 2018 and $70 million in 2019. The bill affords an annual cap of $4 million dollars per facility in donations, which can provide a crucial influx of funds for rurally located hospitals in critical financial conditions across the state.
In the video release "from the well" of the Georgia State House of Representatives prior to the presentation of the motion to accept the conference committee report, House Speaker David Ralston can be heard saying, "If you want to have rural healthcare in Georgia, you better listen up."
Rep. Duncan then stated," The hour is late and I will be brief. I can report to this body two things, tomorrow morning when this body wakes up we will be leading the national conversation on rural healthcare reform, and the folks in rural Georgia will have a renewed hope for the rural health care system. I ask for your favorable support."
Rep. Geoff Duncan was present as the Keynote Speaker for the HomeTown Health 16th Annual Spring Conference, appropriately themed "Keep the 'H' in Your HomeTown." During his presentation, Rep. Duncan shared legislative details of the bill, what he envisions as the bill is enacted, and the policy making process it endured through the House and Senate during this year's session of the Georgia General Assembly. He was honored by two standing ovations and spontaneous applause as he detailed the tremendous efforts made by he and other rural hospital supporters within the Capitol to ensure this bill's approval.
"This is a major step for many rural hospitals to begin planning their future. The amount of legwork put into this bill by its supporters inside the Capitol and by the grass-roots efforts of communities statewide is astounding. This is what hope looks like," says Jimmy Lewis, CEO of HomeTown Health, LLC.
HomeTown Health is urging its Georgia hospitals to begin promoting the bill locally, identifying potential donors within their community and their network, and making sure their hospital is compliant with the bill's statues for qualification and required documentation.