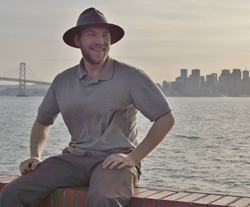 "I'm excited to be serving the guests at Hartman Center. It's a beautiful site with a great and honored history."
Milroy, PA (PRWEB) April 29, 2016
United Camps, Conferences and Retreats (UCCR) has placed Matthew Compton-Clark into the position of Site Director of Hartman Center, located in Milroy, PA.
Matthew began working for UCCR at a California camp a number of years ago in the Associate Site Director Training Program. He worked at Camp Cazadero where he received his primary training. Matthew comes to Hartman from a recent stint at Craigville Retreat on Cape Cod.
The Penn Central Conference of the United Church of Christ selected United Camps, Conferences and Retreats (UCCR) of Petaluma, California to take on operations of the camp and retreat center beginning in April 2016.
UCCR, a non-profit cooperative established in 1970, currently manages 14 sites in Northern and Southern California, Ohio, Pennsylvania, and Massachusetts, most of which are owned by religious organizations.
Under the new management agreement, the Pennsylvania Central Conference-UCC will become a member of UCCR with two seats on its board of directors.
Hartman Center is located at the base of Straley Knob, twenty-one miles south of State College, Pennsylvania. It is comprised of 192 acres of open and wooded areas, with easy access to nearby streams, hiking trails, and state parks. The land on which Hartman Center sits formally became a camp in 1932 as it was willed to the Congregational Church of Milroy by its owner and namesake, Rachel Hartman.
The center accommodates up to 200 guests in a variety of lodges, cabins, and summer A-Frames. The center has a historic stone farmhouse available for lodging. hartman Center also has chapel that accommodates up to 150 persons.
Mike Carr, president of UCCR, said, "We look forward to supporting the mission of Penn Central United Church of Christ at Hartman Center. During the negotiations and meetings with the Central Conference staff, it was immediately evident that they have a huge amount of passion for their camp and successful continued programming. The camp is located in a beautiful valley in central Pennsylvania and the orientation of the buildings highlights the surrounding forest. This is an opportunity to expand our relationship with the United Church of Christ in support of their camping program and all the non profits who lease the facility to further their mission."
UCCR has expanded its management services beyond California in recent years to properties in Ohio, Massachusetts, and now Pennsylvania. All sites managed by UCCR are open to non-profits, schools, religious groups, and organizations for retreats, camps, meetings, reunions, educational and community gatherings. UCCR also provides program partnership to its facilities and owner group organizations through on-site support and the Web of Life Field School (WOLF). The WOLF School is an environmental education provider.
UCCR may be contacted directly at 800-678-5102.