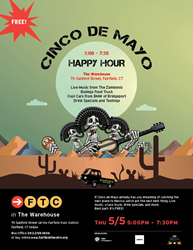 Fairfield, CT (PRWEB) April 29, 2016
Fairfield Theatre Company is throwing another Happy Hour in The Warehouse and a safe ride home. Sponsored by BMW of Bridgeport, Corona, and Uber, FTC invites the community to enjoy food by Bodega, music by The Zambonis, and good times with friends.
Following a successful St. Patty's Day Happy Hour that exceeded attendee expectations, the Fairfield nonprofit is expecting an equally positive turnout for this party at The Warehouse. Bodega Taco Truck will be outside serving "The Best of Bodega," including homemade chips, crispy empanadas, unique tacos, and everything else in between.
Those celebrating with Coronas and tequila are urged to take any of the readily available Uber cars home or to their next destination. First-time Uber passengers can enter the promotional code "FTC2016" before taking their first ride to have $20 deducted from the trip.
The Cinco De Mayo Happy Hour has no admission charge and also has a cash bar. Drink specials and tastings will be running all night. Music by The Zambonis will be played from 5:30 to 7:30 p.m. on The Warehouse stage, and BMW of Bridgeport will be hosting giveaways.
Hop off the train in Fairfield and swing by FTC for drinks, music, and food before continuing Cinco de Mayo celebrations at any of the restaurants in town. The Cinco de Mayo Happy Hour is open to all with no tickets necessary.
Cinco de Mayo Happy Hour with The Zambonis
Sponsored by BMW of Bridgeport
Thursday, May 5
Doors: 5:30 p.m. | No Charge
About Fairfield Theatre Company:
The Fairfield Theatre Company is a nonprofit organization dedicated to a simple premise - that the broadest spectrum of live entertainment and cultural exchange is essential to the vitality of our society. We believe that our quality of life depends on opportunities to get out, and come together in public places to enjoy live music, art, theatre, film, all manners of creative and intellectual discourse, and to participate in these activities to the fullest. From our first season of plays in 2001 on the Fairfield University campus, to the opening of our StageOne venue in downtown Fairfield in 2004, The Warehouse in 2015, to a string of highly-acclaimed performances presented at The Klein Auditorium in Bridgeport and the Norwalk Concert Hall, FTC has evolved into the region's most energetic and productive performing arts organization.