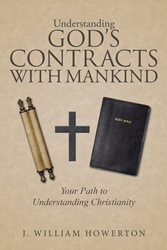 It is not enough to be a bit familiar or have some knowledge of what Christianity is all about
NASHVILLE, Tenn. (PRWEB) May 04, 2016
In today's Christian culture, many are drawn to the faith for therapeutic reasons versus theological reasons. While this may be a good first step, author J. William Howerton explains what is needed to enhance ones' faith after they become a believer.
In his new book, "Understanding God's Contracts with Mankind," Howerton distills Biblical truths intended to enhance Christians' faith as they learn more about God's relationship with man and develop their own personal relationship with God. Howerton draws from his extensive time spent studying the Bible to directly address problems facing society and expand on the nature of Christianity.
"It is not enough to be a bit familiar or have some knowledge of what Christianity is all about," said Howerton. "To maintain our own faith when challenged, and to be able to explain Christianity to others, we need answers and understanding."
Howerton has been an avid student of the Bible for 40 years. In "Understanding God's Contracts with Mankind" Howerton challenges many of the traditions he was taught as a new Christian and does not shy away from expressing what he believes to be true from his biblical studies.
"Understanding God's Contracts with Mankind" seeks to point Christians in the right direction as they pursue a more personal relationship with Christ, as well as provide an opportunity to approach questions they may have regarding their faith and the world.
For more information, visit http://www.godscontracts.wordpress.com.
Understanding God's Contracts with Mankind
By: J. William Howerton
ISBN: 978-1-5127-2418-9
Available in softcover, hardcover, e-book
Available on Amazon, Barnes & Noble and WestBow Press
About the author
J. William Howerton is a retired judge of the Kentucky Court of Appeals and served as chief judge from 1986 through 1990. He is a Korean veteran and a retired lieutenant colonel form the USAF Reserve. Howerton graduated from the University of Kentucky with a BS in commerce and a Juris Doctor degree. He is presently chairman of a charitable foundation. Howerton resides in Paducah, Ky.
# # #
For review copies or interview requests, contact:
Megan Hardesty
317.602.7137
mhardesty(at)bohlsengroup.com