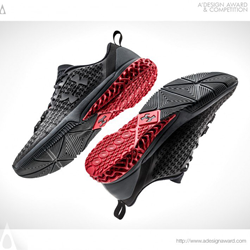 Como, Italy (PRWEB) April 30, 2016
The A' Design Award is an international design accolade, organized at the heart of fashion, in Italy. Entries to the competition are judged by a grand 83-person jury panel of design professionals, artist, stylists, editors and academics who peer review and anonymously vote entries to select the very best of design each year. This year, Under Armour, the American sports clothing and accessories company, impressed both the Italian as well as international members of the jury panel with an original sports shoe design.
"Architech" by Under Armour is the first 3D Printed training shoe to be sold to the consumer market. The award winning design team, Alan Guyan, John Acevedo, and Alan Toronjo invested two years of their time researching various organic shapes and structures to create a truly unique and functional 3D Printed lattice design. The new training shoe, which the team called "Architech" a wordplay on Architecture and Technology, provides dynamic stability, and has a luring design appeal. What makes this design truly original is the fact that the interconnecting lattice beams can only be manufactured by the 3D Printing technology, and could never be replicated by conventional manufacturing processes. To come up with this design, the Under Armour Innovation Team studied geometric shapes, nature, architecture, materials, and structures to create a unique yet functional midsole design. The upper part of the design uses a 3D Auxetic pattern, which can stretch and adapt to the foot shape, providing a comfortable and ergonomic experience.
Regarding the award winning design, one of the jury members in fashion category left the following anonymous feedback; "this design is truly amazing and appealing, for the first time in my life, I honestly desired and feel the urge to have a sports shoe, it is good to see innovation again blossoming at footwear design field". - All entries in the A' Footwear Design Competition are anonymously voted and peer reviewed to ensure fair and ethical scoring, while voting however jury members can leave anonymous notes to convey their feedback and/or impressions about the designs.
"Architech" by Under Armour was granted the Platinum A' Design Award, the highest achievement obtainable in the A' International Design Accolade. Platinum design award winning works are required to be original, functional and highly aesthetic. Laureates, Alan Guyan, John Acevedo, and Alan Toronjo are now invited to attend the glamorous black-tie award ceremony in Italy to claim their design excellence certificates, yearbooks, and also the 3D metal printed trophies.
About A' Design Award and Competition
A' Design Award and Competition is an annual international design award and competition that is open to entries of innovative and original designs, products and services. The competition aims to promote original and innovative products by highlighting and advertising worldwide. The ultimate aim of the design awards is to push designers, engineers, product developers and manufacturers worldwide to come up with superior products that benefit society, meanwhile creating a global appreciation for good design. To learn more about the A' Design Accolades, please do kindly visit http://www.designaward.com