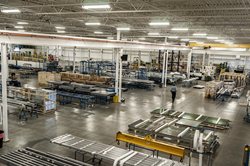 "We can deploy infrastructure in hours instead of months. Hardware is now software."
Hoboken, New Jersey (PRWEB) May 13, 2016
A NYC area IT consultant and MSP, outlines the business opportunities that cloud computing presents and the ease of deploying cloud resources, hence the phrase, "Hardware is now software." The general movement of computing resources from in-house servers to the cloud, and the advantages of the company's managed cloud services offerings are also presented in a new article on the eMazzanti Technologies website.
The article lists remote, anywhere access; rapid scalability; pay as you go pricing; and the ability to offer new products and services as characteristics of cloud computing that enable business growth. The company's use of the Microsoft Azure cloud platform to deliver infrastructure as a service (IaaS) and other cloud services is also explained.
"Managed cloud services put enhanced competitiveness, agility and scalability within reach of businesses of all sizes," stated Jennifer Mazzanti, President, eMazzanti Technologies. "Private cloud, hybrid cloud and disaster recovery as a service (DRaaS) solutions help to level the playing field with larger organizations."
Below are a few excerpts from the article, "Opportunities for Business Growth Enhanced by eMazzanti's Expanded Cloud Services."
"The cloud is now powerful and fast enough that we are in the midst of a paradigm shift," states Mark Clawson, Cloud Services Manager, eMazzanti Technologies, Seattle. "It's leading us to a world of desktop dumb terminals that access all of the computing power and data storage in the cloud this time around rather than on a mainframe."
"Microsoft and other major players are betting on the shift. They have gone all in, setting up data centers, networks and management frameworks to provide cloud computing on a massive commercial scale to businesses of all sizes. The transformational power of the cloud is substantiated by this investment in cloud resources and the popularity of cloud services."
"For customers wanting to access IT resources on the cloud, eMazzanti employs powerful Microsoft Azure app fabric tools to manage and deliver resources from the Microsoft data centers. Cloud deployment options include on-premises cloud, hybrid cloud, and disaster recovery as a service (DRaaS)."
"Based on Microsoft Azure technology, eMazzanti's cloud services provide the highest level of cloud security available. Microsoft employs data security transparency, penetration testing and elaborate measures to make users' cloud data super-secure," the article concludes.
eMazzanti's cloud services offerings were recently expanded by the acquisition of certain business assets and personnel from an unnamed Microsoft Partner. eMazzanti will be working with strategic partners to provide cloud hosting and managed cloud services to their customers, as well as eMazzanti's existing customer base.
"One of the primary benefits of eMazzanti managed cloud services is that we can deploy infrastructure in hours instead of months. Hardware is now software," explained Clawson. "The cloud resource flexibility that customers enjoy is truly remarkable."
Enterprise customers can be confident in eMazzanti's track record with cloud customers and secure, high-performance cloud services built with Microsoft Azure resources, often through their existing software partners. Organizations of all sizes consider eMazzanti a capable, trusted partner to evaluate, deploy and manage growth enabling cloud computing initiatives.
Related resource information:
Affordable Cloud-based Disaster Recovery Available to NYC area Businesses
Loyalty, the Law and the Cloud
About eMazzanti Technologies
eMazzanti's team of trained, certified IT experts rapidly deliver cloud and mobile solutions, multi-site implementations, 24×7 outsourced network management, remote monitoring and support to increase productivity, data security and revenue growth for clients ranging from law firms to high-end global retailers.
eMazzanti has made the Inc. 5000 list six years running, is a 2015, 2013 and 2012 Microsoft Partner of the Year, and a 5X WatchGuard Partner of the Year. Contact: 1-866-362-9926, info(at)emazzanti.net or http://www.emazzanti.net Twitter: @emazzanti Facebook: Facebook.com/emazzantitechnologies.