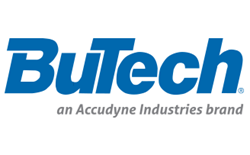 When a high pressure system spikes, our valves relieve the pressure and prevent damage to the system that could stop production or potentially harm employees and the environment
BURBANK, CA (PRWEB) May 02, 2016
BuTech, a leading brand of high-pressure valves, fittings and tubing, today introduced a new line of high-pressure relief valves that set the standard for safety in high pressure, high temperature environments where safety and reliability are critical.
BuTech's new relief valves feature a state-of-the-art repeatable release design that minimizes the need for frequent recalibration. The unique design enables the valves to automatically reseat after each pressure release, resulting in reduced maintenance and downtime, and lower whole-life cost. The valves feature optimized outlet flow for faster relieving, providing superior performance and the reliability that BuTech is known for.
Designed for essentially any medium to high-pressure system, the new relief valves are already being used by many of the industry's major oilfield equipment and service providers, integrators and EPCs. In addition to offshore applications, the precision relief valves are available in standard or customized versions, made from materials specifically designed to address petrochemical applications, cryogenic systems, or a wide variety of onshore high pressure gas systems.
The new relief valves are designed to open proportionally, to increasing pressure ranging from 1,500 psig (103 bar) to 20,000 psig (1378 bar), with temperatures ranging from -328°F (-200°C) to 400°F (204°C).
"When any high pressure system spikes, our valves relieve the pressure and prevent damage to the system that could stop production or potentially harm employees and the environment," said Steve Learney, Haskel BuTech Global Product Line Manager. "Although the function of a relief valve is simple, the role it plays is critical, and companies around the globe trust BuTech to deliver the industry's safest and most reliable valves."
BuTech is showcasing the new high pressure relief valves at the Offshore Technology Conference (OTC 2016), taking place May 2-5 at NRG Park in Houston, in Booth #2765.
About BuTech:
BuTech is the world's leading brand for high pressure valves, fittings and tubing. The BuTech line of products was established in 1973 with a commitment to quality, innovation and customer service. Since that time, BuTech has established a world-wide distribution network, and the most extensive and versatile product line available for pressures up to 150,000 PSI. BuTech products are used in oil, natural gas, chemical and petrochemical industries, as well as waterjet/waterblast, aerospace, marine, government and niche industrial markets. With a global network of highly-trained field engineers and sales support, BuTech is always ready to aggressively respond to meet the evolving requirements of highly engineered technologies. For more information, please visit: http://www.butech-valve.com.
Contact Information:
Irma Aguilar
Irma(dot)aguilar(at)haskel(dot)com
818.556.2528 direct
###