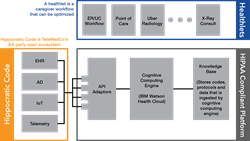 (PRWEB) May 02, 2016
TeleMedCo™, a new company developing real time technology for emergency rooms and urgent care facilities designed to automate and improve the rapid diagnosis, triage and admission of patients leveraging IBM Watson's software and healthcare cloud, today announced it is demonstrating their platform, application, and mobile experience for the first time at GENBAND's Perspectives16 conference.
TeleMedCo selected GENBAND's Kandy platform as its provider of real time communications capabilities, including secure and HIPAA compliant instant messaging, voice services, and multi-party video collaboration all embedded in intuitive experiences connecting incoming patients and their care teams instantly.
The TeleMedCo platform, currently under development and expected to be in hospital trials by the end of 2016, takes standard emergency room protocols and programs them into a system incoming patients interact with, after answering a series of questions and providing their personal information allowing the system to access and share the appropriate Electronic Medical Records (EMR). Further, the system is able to order vitals and labs, recording the data and making it easier to access by doctors, specialists and other medical staff.
The result is faster and more accurate admissions and more efficient operations of Emergency Rooms (ER), which are currently under tremendous stress as visits to ERs grow, many are understaffed, and medical teams are too often at a loss to reduce the time patients must wait.
Having Watson welcome and interview patients who come to an emergency facility will free up time for doctors and other healthcare personnel to see more patients and to focus on those requiring more urgent attention. Because of Watson's ability to read medical journals and research documents in real time and its vast pharmaceutical database, Watson will speed treatment and help to eliminate errors, thereby de-stressing the process. TeleMedCo solutions, powered by IBM Watson, will also update patient records, code and process insurance claims, and monitor patients for aftercare.
With Kandy's real time communications cloud capabilities integrated into the solution, should a patient need to speak with his or her doctor, the doctor will automatically be alerted and can open a voice call or video consult within seconds using a smartphone or tablet. If the primary doctor or specialist is not available, the alert will automatically hunt for the next professional associated with that patient's case.
"We are very proud this week to be the real time communications engine behind this project," said Paul Pluschkell, Founder and CEO of Kandy. "This solution can save time, money and even lives, and the opportunity to expand this from Emergency Rooms into other applications is extraordinary."
TeleMedCo's team will be showing the solution live in the Kandy Pavilion showcase at GENBAND's annual customer and partner summit in Orlando, Florida, May 2 -5, 2016.
"I have been serving in Emergency Room settings for nearly 25 years," said Dr. Tina Miranda, Co-founder of TeleMedCo. "We have spent years not only studying this area, but working in this space, and we are passionate about this opportunity working with companies like IBM, GENBAND and others to pull together all the elements required to create something very special, and very scalable."
The systems integration and mobile application development for the demo was designed and implemented by Qualesce, a technology solutions and resourcing company.
"This is one of the most exciting projects I've ever contributed to," said Andy Asava, CEO of Qualesce. "It is an honor to work with true visionaries on something so important to each of us. The opportunity to massively reduce costs while making the experience of visiting the ER and treating patients better is nothing short of inspiring."