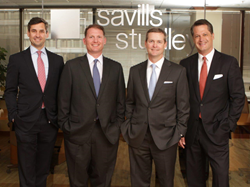 Atlanta, GA (PRWEB) May 02, 2016
Savills Studley, the leading commercial real estate services firm specializing in tenant representation, is pleased to announce the hiring of three industry leaders to its expanding Atlanta office.
"We are very excited to welcome these extremely talented and accomplished gentlemen to our firm as we build Savills Studley's presence in Atlanta," said Executive Vice President, Market Leader Chris White. "The hiring of these individuals is a direct reflection of our changing culture and moving forward, will better enable us to compete as a major player in this city."
As Executive Managing Director, Robert F. Keatley II (Bo) will bring his diverse commercial real estate background in investments, leasing and finance to Savills Studley's growing Atlanta office. Since 2006, Keatley has worked exclusively in tenant representation assisting clients in primarily lease and purchase transactions.
Keatley has worked with some of Atlanta's most exciting and fastest growing companies on commercial property leases and acquisitions. Prior to joining Savills Studley, Keatley was a principal with Cresa's Atlanta office and preceding Cresa was a principal in a boutique firm that provided real estate advisory services and invested in commercial property.
Executive Managing Director David Rubenstein has an extensive commercial real estate background, including development, leasing and finance. Since 2000, he has worked exclusively as a tenant representative assisting clients in office, healthcare and industrial real estate transactions. As a tenant representative, Rubenstein has worked with some of Atlanta's most prestigious established and fast-growth companies on various lease and acquisition assignments.
Before joining Savills Studley, Rubenstein was a principal with both Cresa and The Miller Richmond Company, a prominent Atlanta based tenant representation boutique. He also worked as a commercial real estate developer for both Cousins Properties Inc. and Holder Properties, Inc., two of Atlanta's leading real estate development firms.
Rubenstein was a founding member of The Alliance of Tenant Representatives and has published numerous articles and delivered presentations to a wide variety of audiences on subjects relating to commercial real estate.
Executive Managing Director John Flack brings 18 years of experience exclusively represented the interests of corporate office space users. To date, Flack has completed assignments with a combined value of more than $500 million. Although Flack possesses an extremely strong set of credentials in all phases of the advisory process, it is his real-time market knowledge of metro Atlanta which distinguish him as an expert by investors, owners, leasing agents and his clients.
Prior to joining Savills Studley, Flack served as a Principal at Cresa Atlanta from 2006-2016 and as a Vice President with Carter & Associates/ONCOR from 1998-2006.
About Savills Studley
Savills Studley is the leading commercial real estate services firm specializing in tenant representation. Founded in 1954, the firm pioneered the conflict-free business model of representing only tenants in their commercial real estate transactions. Today, supported by high quality market research and in-depth analysis, Savills Studley provides strategic real estate solutions to organizations across all industries. The firm's comprehensive commercial real estate platform includes brokerage, project management, capital markets, consulting and corporate services. With 28 offices in the U.S. and Canada, and a heritage of innovation, Savills Studley is well known for tenacious client advocacy and exceptional service.
The firm is part of London-headquartered Savills plc, the premier global real estate service provider with over 30,000 professionals and over 700 locations around the world. Savills plc is listed on the London Stock Exchange (SVS.L).
For more information, please visit http://www.savills-studley.com and follow us on LinkedIn and Twitter @SavillsStudley