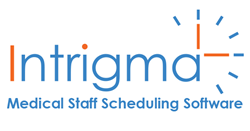 "The ease of access anywhere was a great satisfier to physicians."
New York, NY (PRWEB) May 03, 2016
Intrigma, the leading provider of vital resource coordination solutions for the healthcare industry, announced today that Legacy Health is expanding its use of Intrigma's cloud-based physician scheduling solution, Efficient Scheduler (a part of Intrigma's Efficient Works platform), after a highly successful initial proof of concept. The Portland, Oregon based health system conducted a one-year pilot of the Efficient Scheduler solution in its internal medicine division and found that daily schedule and compensation management were made easier for the schedulers and administration, while allowing physicians to conveniently access and make changes to the schedule using the native mobile app. In addition, the solution's excellent reporting capabilities will assist them in future operational and decision support. The organization will now use the scheduling solutions for all physician service lines across the entire Legacy system.
"Intrigma offers a cloud based enterprise solution for scheduling physicians of all specialties that delivers the results we needed for our providers and our patients." added John Kenagy, PhD, Legacy's Senior Vice President and Chief Information Officer. "The ease of access anywhere was a great satisfier to physicians; streamlining the complex management of shifts and resources made the administrative support staff happy at the same time."
The Legacy schedule contains two sites, with rounding shifts designated as teaching or non-teaching shifts, as well as swing and night shifts for coverage. Legacy builds their schedule in three-month periods, as a month would be too short a timeframe to accurately determine and implement ideal length of their longer shifts.
"Intrigma was able to accommodate our interest in automating most of what is a very complex scheduling process in a way that prioritizes continuity of care and the needs of our staff," said Chuck Bruce, Director of Medical Specialties Division at Legacy Health. "Because the initial trial was so successful, in saving us time and meeting our goals of reduced length of stay, we're moving our other departments onto the system this year."
The solution uses more than 100 rules for each physician that consider personal preferences, teaching versus non-teaching rounds, balancing of overall work targets, and fair distribution of swing, late, and weekend assignments, plus backup call. The automated scheduling system helps Legacy to deliver runs of shifts that are as long as possible - ideally around seven days in a row, with longer stretches of assignments allowed on a case-by-case basis. These rules and preferences were built into Intrigma Efficient Works as rule groups, which can be easily applied to a newly added provider. This prevents knowledge from being lost when a scheduler leaves, a frequent occurrence in the past when providers were unable to update an Excel sheet-based schedule.
Additionally, Intrigma Efficient Works provides a scheduling view, the Shift Grid, which is purpose-built to help optimize continuity of care, as its visual layout allows the scheduler to easily manage and adjust assignments.
About Intrigma Efficient Works
Intrigma Efficient Works suite of cloud applications help healthcare organizations reduce the amount of time spent building physician, nurse, and allied health schedules by up to 90 percent. The solutions are unique in their ability to simplify complicated scheduling workflows and create optimal patient flow for efficient delivery of healthcare. The HIPAA-compliant cloud-based solutions include a free mobile application, enabling better communication between teams and improved retention of skilled staff. Efficient Works is available in Free and Premium versions.
Get started today with Intrigma's always-free scheduling solution: http://www.intrigma.com/freescheduler/
About Intrigma
Intrigma Inc. provides the most comprehensive vital resource coordination systems, enabling healthcare providers to optimally schedule staff and deliver cost-effective, quality healthcare. Founded in 2004, with headquarters in New York City, Intrigma customers include Columbia University Medical Center, Kaiser Permanente, and King Saud Medical Center. For more information, please visit http://www.intrigma.com, or connect with us on Twitter, Google+ or LinkedIn.