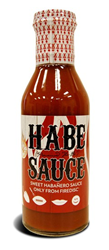 Houston, TX (PRWEB) May 02, 2016
FireDisc® Grills and accessories are in a league of their own with innovative attributes spanning portability, counter height, surface temperature range, capacity and clean-up. These grills have also been ruthlessly vetted by some of the world's leading Chefs, such as Chef Conor Moran. While the grills and accessories are fantastic, the one thing they can't do is serve up mouth-watering meals on their own. Problem solved. FireDisc® Chef Conor Moran is unveiling the FireDisc Habe Sauce, enabling everyone from amateur cooks to culinary foodies to knock summer BBQ's out of the park.
About FireDisc Habe Sauce:
Q&A with Chef Conor
Taste inspirations

Chef Conor set out to create something different than the average BBQ sauce
Many spicy sauces only focus on heat and the goal was to develop a better balance
Key ingredients

Fresh habanero peppers and fresh jalapenos
Origins

Variations of the sauce were originally created and tested for a food truck
Perfect use

Pork, chicken, breakfast tacos, fried fish, sandwiches or even a dip for chips
What sets it apart from other sauces

An ideal blend of sweet and spicy
Simple ingredients and the right balance
Where to Buy
FireDisc Habe sauce is launching online and via retailers nationwide now.
http://store.firediscgrills.com/habe-sauce/
"I started making variations of this sauce for my food truck and catering company years ago," says FireDisc Executive Chef, Conor Moran. "I met the FireDisc founders at a charity event a while back and they had the chance to try it. At the time I was bottling the sauce myself in tomato sauce jars. The FireDisc founders, Griffin and Hunter Jaggard, loved the sauce. When we began working together, I started making the sauce in large batches right inside the FireDisc grill. As the label says, it balances sweet and spicy – like getting a hug from your grandma, and having her pop you with a wet towel as you walk away."
About Chef Conor Moran:
Who better to think out of the box and craft a new benchmark of quality for the BBQ industry than renowned Chef, Conor Moran. Chef Conor's culinary influences are as diverse as his family roots and choice of adopted home towns across the globe. Born and raised in Houston, TX with Irish and Italian family roots, Chef Conor has honed his culinary palate while living in the far reaches of Cairo, Egypt and Rio de Janeiro, Brazil. Moran, having worked in a multitude of restaurants from the young age of fifteen, has learned to create delicacies in just about any kitchen type, from Houston's upscale Lomonte's Italian restaurant to streamside using a Firedisc®. His experiences leveraging all levels of cooking apparatus set the stage for development of the Chef-Tested/Chef-Approved® protocol.
About FireDisc® Grills:
Texas-based FireDisc® Grills specializes in the design and manufacturing of the world's most the innovative, high-quality and versatile outdoor grills and accessories. The company was founded by two entrepreneurial brothers, Griffin and Hunter Jaggard, who, armed with a makeshift tractor plow disc set out on a mission to build a grill worthy of everyone from the world's top chef's to hunters, backyard family grill masters, tailgaters and campers. FireDisc® Grill products are currently sold nationally via 500+ retail locations in over 31 states and online throughout the globe.
Heavy-duty carbon steel construction render the grills indestructible, while meticulous designs yield convenient portability and ease-of-use. A rigorous "Chef-tested/Chef-Approved" quality assurance program enables the grills to deliver unmatched grilling characteristics, as they have been vetted by some of the world's leading chef's. Prior to their launch of FireDisc® Grills, the founders formed a non-profit to raise money and find a cure for Multiple Sclerosis. To date $1M has been raised via "The Carney Men" Bike MS team. Community involvement is the core of the FireDisc® brand in addition to the National MS Society they are proud supporters of the American Cancer Society, Wounded Warrior Project and many more.
For more information visit http://www.firediscgrills.com
Community Involvement: http://www.firediscgrills.com/company-involvement/
###