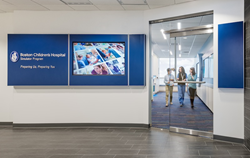 Boston, MA (PRWEB) May 03, 2016
Boston Children's Hospital today announced its new pediatric Simulation (SIM) Center — a space where clinicians can rehearse tough medical situations or practice tricky or rare procedures in an environment that looks and feels real.
Located in the heart of Boston's Longwood Medical Area, the SIM Center is also available to inventors and "hackers" to develop and test new devices or software platforms and see how they perform in a life-like clinical environment. Family caregivers, too, can use the SIM Center to practice using medical equipment and gain confidence in handling care at home.
"The expanded space fuses medicine and theater with education and child life expertise to allow custom simulations for children and families for the first time," says Peter Weinstock, MD, PhD, director of Boston Children's Simulator Program (SIMPeds). "Simulation can help parents prepare for hospital discharge, teach them to run a home ventilator or help children with behavioral conditions like autism anticipate hospital visits and medical procedures."
Near the SIM Center Headquarters (3 Blackfan Circle) is the SIM InventorSpace, housing 3D printers, an imaging room for converting data from patient scans for 3D printing, an engineering space, a special effects room and a space dedicated to device prototyping.
High-resolution photos are available via Dropbox: bitly.com/BCHSimCenter.
Watch a video tour: bitly.com/BCHSimCenterVideo.
About Boston Children's Hospital
Boston Children's Hospital is home to the world's largest research enterprise based at a pediatric medical center, where its discoveries have benefited both children and adults since 1869. More than 1,100 scientists, including seven members of the National Academy of Sciences, 11 members of the Institute of Medicine and 10 members of the Howard Hughes Medical Institute comprise Boston Children's research community. Founded as a 20-bed hospital for children, Boston Children's today is a 404-bed comprehensive center for pediatric and adolescent health care. Boston Children's is also the primary pediatric teaching affiliate of Harvard Medical School. For more, visit our Vector and Thriving blogs and follow us on our social media channels: @BostonChildrens, @BCH_Innovation, Facebook and YouTube.
###