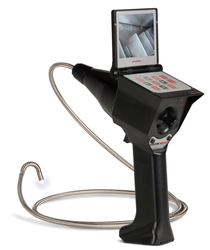 RF System Lab borescope expert Zack Wessels will be exhibiting at booth #806 and is providing free demos of the VJ-ADV.
Traverse City, MI (PRWEB) May 03, 2016
NBAA's Maintenance Management Conference takes place May 3-5 at the Kansas City Convention Center in Kansas City, Missouri. This past year's Maintenance Management Conference was a huge success with record breaking attendance of business aviation's directors of maintenance, flight department managers, maintenance technicians, aircraft owners/operators, and chief pilots.
RF System Lab will be among the 1,000 plus exhibitors, presenting their impressive line of VJ-Advance (VJ-ADV) joystick-controlled, four-way articulating video borescopes. The VJ-ADV, with insertion tube diameters of 2.8mm, 3.9mm, and 6.9mm, is the ideal tool for remote visual inspection in the aviation industry. Whether aviation professionals specialize in inspecting turbines, recips, airframes or avionics, a high-quality, portable video borescope like the VJ-ADV is an excellent investment.
RF System Lab borescope expert Zack Wessels will be exhibiting at booth #806 and is providing free demos of the VJ-ADV. A borescope expert will be available to answer questions about how the battery-operated, 23oz VJ-ADV video borescope is a crucial addition to any aviation professional's toolkit.
RF System Lab is a worldwide leader in remote visual inspection and video borescope technology. RF manufactures the fully-articulating (360 degree) VJ-Advance (VJ-ADV) video borescope; available in 2.8mm, 3.9mm, or 6.9mm insertion tube diameters. The VJ-ADV delivers the ideal features sought after by industry professionals. RF System Lab offers an industry-first, no obligation demo program to allow companies to test drive the VJ-Advance by doing real-world inspections at their own facility for free.
For more information regarding the NBAA Maintenance Management Conference, download the MMC2016 mobile app, follow the event on Twitter with #NBAA16 or visit the NBAA website at https://www.nbaa.org/events/mmc/2016/
RF System Lab offers the industry's only no-cost, no-obligation borescope trial. The company will send the VJ-Advance video borescope so that you can use it while completing inspections at your own facility in order to be sure that it suits all of your requirements. Visit RF System Lab at booth #806 or contact them today at (855) 787-6966, to arrange to receive your demonstration unit.