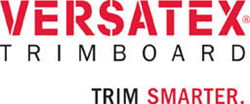 "We view each of these markets as tremendous growth opportunities for Versatex," stated Rick Kapres, Vice President of Sales and Marketing.
Pittsburgh, PA (PRWEB) May 04, 2016
Versatex sales and marketing Vice President Rick Kapres said today that dealers, lumber yards and home improvement centers now can order the company's weather-resistant components through three new sources: Prefinished Staining Products in Green Bay, Wis.; BlueLinx Corp.'s Charleston, S.C., location; and the Hood Industries Distribution facility in Mobile, Ala.
"These distributors provide OEMs and building-materials dealers with extraordinary service," Mr. Kapres said. "Each of these regions has a uniquely demanding climate, and we're excited about making the value of Versatex products more widely available by partnering with these outstanding businesses."
He said that Prefinished Staining Products (PSP) now offers the full Versatex line to customers in Wisconsin and Minnesota. He explained that PSP began providing wholesalers and lumberyards with professional staining and painting services in 1999, and has supplied top-quality substrates such as Versatex PVC since 2003.
According to Mr. Kapres, the Charleston BlueLinx operation will distribute Versatex products to building materials dealers, industrial building-products users, and home-improvement centers throughout coastal South Carolina. Nationally, BlueLinx sells a comprehensive range of building projects through a network of more than 40 warehouses and 50 reload facilities.
From its Mobile, Ala., site, Mr. Kapres said, Hood Distribution will provide the full Versatex product line from Panama City, Fla., to New Orleans. The parent company, Hood Industries, Inc., specializes in wood manufacturing and distribution, with locations in 13 states that serve customers in the Northeast, Southeast and Southwest.
"We view each of these markets as tremendous growth opportunities for Versatex due to the architectural style and climate conditions that are tough on wood. Each of these distributors supply outstanding service to the OEM's and building material dealers which will make Versatex easy to buy in these areas," said Rick Kapres.
About VERSATEX
Weather-resistant, long-lasting VERSATEX trim materials and systems are manufactured by Versatex Building Products, LLC, of Pittsburgh, where state-of-the-art facilities produce cellular PVC extrusion products such as VERSATEX trimboards, sheet, bead board, moldings and prefabricated corners; the innovative VERSATEX soffit system; and the dimensionally compatible VERSATEX Max nominal 2-by boards. Visit http://www.versatex.com.