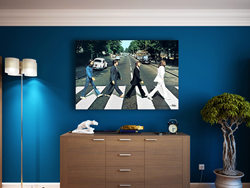 It's Getting Better All The Time - - The Beatles
New Rochelle, NY (PRWEB) May 16, 2016
Brandon Steiner, the Founder and CEO of Steiner Sports Marketing, Inc., a 29-year-old organization considered to be the leading producer of authentic hand-signed collectibles in the United States, announced today that his company is partnering with The Beatle's Apple Corps Ltd. to release a line of licensed Beatles Wall Art. The initial offering in "The Beatles Collection" will consist of two framed presentations celebrating their U.S. and UK albums, along with canvases representing both group images and album covers. The deal was brokered by Bravado International, The Beatle's North American licensing agent.
"As both a sports and music enthusiast all my life," Steiner stated, "I am at once delighted and enthusiastic that not only is Steiner Sports now a part of the legacy of this most iconic and historical brand, but that we will now be able to bring unique products and memories to so many Beatles fans moving forward."
Steiner continued: "I believe that our greatest strength in this new venture will be in our product development efforts where we will be significantly expanding an already extraordinary product line."
As a major part of its efforts, Steiner Sports intends to commemorate some notable upcoming Beatles Anniversaries such as the August 1966 release of the album Revolver, as well as creating a collection in 2017 that celebrates the 50th Anniversary of Sgt. Pepper's Lonely Hearts Club Band.
Steiner will be marketing its products through both already-established Beatles vendors and its own website and is also preparing to expand the brand into the company's high-end digital and brick and mortar distribution channels.
Media requests and questions should be sent to Ira Silverman at irahsilverman@gmail.com.
For more information about The Beatles Collection, email Eric Levy at eric_l@steinersports.com, call him at: 914-307-1051 or visit http://www.steinersports.com/thebeatles.
About Steiner Sports Marketing
Steiner Sports specializes in helping companies use the power of sports and entertainment to grow their businesses. The company has spent nearly 30 years building relationships with more than 2,000 athletes; national relationships with the major sports leagues; and partnerships with the best teams in sports. These associations are the foundation for the unique sports and entertainment experiences the company provides.
# # #