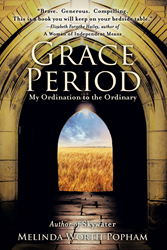 I went off to Yale thinking I was going to get a credential in God, but found that, as poet Yeats said, 'There is no signing school for soul.'
LOS ANGELES (PRWEB) May 03, 2016
Coping with a child suffering from severe depression leaves parents feeling profoundly anxious, stressed and helpless. Author Melinda Worth Popham knows this feeling well.
Popham, whose teenage daughter suffered from life-threatening depression, was brought to her knees in search of strength and courage. She discovered that pain is the "Miracle-Gro" of spiritual transformation, a realization that ultimately led her to Yale Divinity School.
In her new book, "Grace Period: My Ordination to the Ordinary," Popham details her story of leaving home at age fifty-six to pursue the study of God at Yale Divinity School following a barrage of painful life events: her divorce, her mother's death and her daughter's depression.
"My story is not only about my study of God, but about God's education of me," Popham said. "I went off to Yale thinking I was going to get a credential in God, but found that, as poet Yeats said, 'There is no signing school for soul.'"
Popham has penned two other books, including the award-winning novel "Skywater." Of her memoir "Grace Period," Publisher's Weekly's starred review said that "she proves herself a highbrow, refined, spiritual sister to Anne Lamott."
Popham now shares her spiritual wisdom and experiences as a retreat leader and private spiritual director.
For more information, visit melindaworthpopham.com.
Grace Period: My Ordination to the Ordinary
By Melinda Worth Popham
ISBN: 978-1-4917-7601-8
Available in softcover, hardcover, e-book
Available on Amazon, Barnes & Noble and iUniverse
About the author
Melinda Worth Popham was born in Kansas City and has a Bachelor of Arts degree from the University of Chicago and Master of Arts degrees from Yale Divinity School and Stanford. Her previous book, "Skywater," was named an American Library Association Notable Book, honored by the California Senate and showcased in Barnes and Noble's Discover Great New Writers.
Popham has two adult children and lives in Los Angeles where she is a spiritual director and retreat leader. "Grace Period" is her third book. She is currently at work on her next one.
# # #
For review copies or interview requests, contact:
Jade Schwarting
317.602.7137
jschwarting(at)bohlsengroup(dot)com