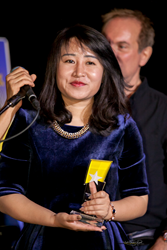 LOS ANGELES, CA (PRWEB) May 03, 2016
International Film Festival North Hollywood (IFFNoHo) today released the names of the winners of the 2016 film festival. The Awards Ceremony was held on Sunday, May 1, at The Federal Bar in North Hollywood and was sponsored by VEDC, a nonprofit micro and small business lender.
The winners are:
Best Documentary Short
Fare Ta – Land of Dance (Idrissa Camara, director)
Best Documentary Feature
Gazelle: The Love Issue (Cesar Terranova, director)
Best Narrative Short
The Last Journey of the Enigmatic Paul WR (Romain Quirot, director)
Best Narrative Feature
Actor For Hire (Marcus Mizelle, director)
Best Actor
Mischa Pollack – It's Not A Date
Best Actress
Lauren White – Present Company Excluded
Best Trailer
Carved (Mary Russell, director)
Best Music Film
Strings (Tanner Jarman, director)
Best Food Film
A Farmer's Road (John Murray, director)
Best Dance Film
Porcelain (Samantha Smith, director)
Best Music Video
City of Souls – Water (Ziga Zupancic, director)
Best Student Film
OstrichLand (David McCracken, director)
Emerging Filmmaker Award
Liang Shuang – The Stepmother
Director's Choice – Best Film
The Mule (Mike George, director)
Cinema Trailblazer Award
Michael Hausman
The festival hosted filmmakers from all over the world for the four day event, screening 66 films from 15 countries, April 28 through May 1, 2016 at the NoHo Arts Center.
Festival website http://www.iffnoho.com
Festival App at http://www.squadup.com
Follow IFFNoHo on Facebook, Instagram, Twitter
Use hashtag #IFFNoHo
FESTIVAL SPONSORS & PARTNERS:
VEDC, SquadUp, Whole Foods Market Sherman Oaks, Birns & Sawyer Hollywood, Van Nuys Jeep, de Wolff Advisors, NoHo BID, NoHoArtsDistrict.com, Hoy Newspaper, Skynny Kitchen, The Federal Bar, Kahuna Tiki, and Holiday Inn Express-NoHo
ABOUT INTERNATIONAL FILM FESTIVAL NORTH HOLLYWOOD:
The International Film Festival North Hollywood is a 501(c)(3) non-profit organization that celebrates the art of filmmaking, helps support a community of artists and showcases North Hollywood as an entertainment and travel destination. IFFNoHo supports and nurtures emerging independent filmmakers and their stories from around the world not currently found in mainstream American cinema. Our goal is to collaborate with community partners to build social cohesiveness, philanthropy and volunteerism using film as the catalyst.