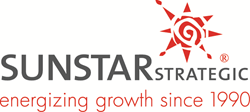 Alexandria, Virginia (PRWEB) May 06, 2016
Dan Sondhelm, a 21-year employee of SunStar Strategic, a public relations and marketing firm outside of Washington DC, has resigned as senior vice president of the firm. However, he will retain partial ownership in the firm and be available to provide valuable consulting services to SunStar clients.
"Dan started with me as an intern while completing his MBA. Over the years, he has become a sought-after expert in consulting on distribution and marketing for money managers," said Kathryn Morrison, president, CEO and founder of SunStar Strategic. "We're pleased that he will remain involved with SunStar and its clients. We all appreciate Dan's creative thinking and depth of industry expertise."
"In stepping away from my past position at SunStar, I will explore new personal growth opportunities," said Sondhelm.
SunStar Strategic's executives are among the most experienced and well-educated in the financial services industry. Firm partners Melissa Murphy, Bob Tebeleff and Hibre Teklemariam have been providing services to SunStar's clients for a combined 38 years.
"We are accelerating our growth path at SunStar," added Morrison, "and expanding our digital offerings to firms seeking to compete in the new market place."
SunStar is working with clients to enhance content development, optimization, social presence and customer outreach. Marilyn Dale, director of creative services, has been named vice president of the digital marketing division and is building the team to support growing client needs.
About SunStar Strategic
Since 1990, SunStar Strategic has designed and executed media relations and marketing communications strategies focused on delivering its clients' timely messages to the right audiences. SunStar Strategic is an expert at helping clients articulate their unique stories and proactively presenting them to the financial and business media as well as the investment community. Our services attract and retain customers and investors, and build brands through structured news generation programs and smart marketing.
For more information, visit http://www.sunstarstrategic.com