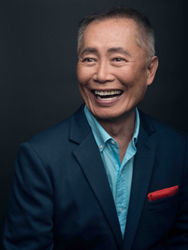 I am honored to bring my colleague, friend, actor, social change advocate, and social media pioneer George Takei to Learning 2016. George is one of the most profoundly impactful storytellers, icons, and teachers! - Elliott Masie
Saratoga Springs, NY (PRWEB) May 03, 2016
George Takei will be featured at Elliott Masie's Learning 2016, taking place October 23-26 in Orlando, FL.
"I am honored to bring my colleague, friend, actor, social change advocate, and social media pioneer George Takei to Learning 2016," said Masie, Host and Curator of Learning 2016. "George is one of the most profoundly impactful storytellers, icons, and teachers! From his original fame on Star Trek, to his amazing network of over 10,000,000 internet followers, to a key role in moving for marriage equality, to his recent starring role in Broadway's Allegiance - George Takei is clearly a man of 'Oh Myyyy' impact."
Elliott will interview George on a wide range of topics at Learning 2016, including Storytelling in the Digital Age, Social Media Messaging, The Role of the "MEME" as a Tool for Impact and Change, and The Vibrancy of Content and Context in Stories.
In addition, George is honored to help interview Astronaut Scott Kelly "From the Starship Enterprise to the International Space Station" in this season of the 50th Anniversary of Star Trek.
George Takei is best known for his portrayal of Mr. Sulu in the acclaimed television and film series Star Trek. He's an actor, social justice activist, social media mega-power, star of the Broadway musical Allegiance, and subject of To Be Takei, a documentary on his life and career.
Now a community activist, Takei serves as chair of the council of governors of East West Players, the nation's foremost Asian Pacific American theater. He is also a member of the Human Rights Campaign, the largest national lesbian, gay, bisexual, and transgender political organization. Takei is Chairman Emeritus of the Japanese American National Museum's Board of Trustees; a member of the US-Japan Bridging Foundation's Board of Directors; and served on the Board of the Japan-United States Friendship Commission under President Clinton.
His first book, his autobiography, To the Stars, was published in 1994, and in 2012 and 2013 he published his second and third books, Oh Myyy! There Goes The Internet, and its sequel, Lions And Tigers And Bears: The Internet Strikes Back - both about his forays on social media and the internet, making the Amazon e-book and paperback best-seller lists in 2012 and 2013.
George will join featured keynote speakers NASA astronaut Captain Scott Kelly and Emmy-nominated filmmaker, speaker, and Webby Awards Founder Tiffany Shlain at Learning 2016. The conference will focus on how learning is changing and the roles that technology, social networks, and storytelling play in building new workforce skills.
For 26 years, Elliott Masie's events have been the premier conferences for leaders in the learning and development industry. Learning 2016, which will be held at Disney's Coronado Springs Resort and Convention Center October 23-26, will bring together 2,000 US and Global learning leaders from over 800 companies to attend 6 keynotes, over 150 breakout sessions, MeetUps, and many more experiential elements, including an active gamification component.
Take advantage of Early Registration Discounts at http://www.learning2016.com
The MASIE Center is an international Learning LAB and research center working with global organizations. For more information, please visit http://www.masie.com