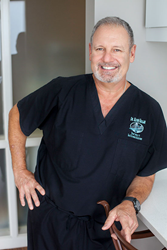 Mount Pleasant, SC (PRWEB) May 03, 2016
Trusted area dentist, Dr. Kevin Hogan, supports Stroke Awareness Month this May, by helping his patients better understand the connection between periodontal disease and this dangerous health condition. Research indicates that those with advanced gum disease may be at greater risk of suffering strokes than their peers. To address this serious threat, Dr. Hogan is proud to utilize the minimally-invasive LANAP® protocol to treat and eradicate gum disease in Mount Pleasant, SC.
The nature of the relationship between gum disease and stroke is still being studied. However, research indicates that people who have lost teeth due to gum disease are more likely to suffer strokes. Similarly, people who have been diagnosed with acute cerebrovascular ischemia are more likely to have periodontal disease. Given the serious impacts of stroke, Dr. Hogan encourages patients to protect their general health by maintaining strong oral health.
Data from the Centers for Disease Control and Prevention shows that over 45 percent of Americans live with periodontal disease and therefore may be at enhanced risk for suffering strokes. Fortunately, people who are afflicted with gum disease in Mount Pleasant, SC, can reduce this risk by visiting Dr. Hogan for the LANAP® protocol. This minimally invasive procedure uses a laser to remove diseased gum tissue and the responsible bacteria. This approach minimizes the risk of bleeding, pain, infection and other adverse outcomes.
Patients who are interested in learning more about the LANAP® protocol are encouraged to visit Dr. Hogan's website, http://www.smilesbyhogan.com. People who wish to schedule consultations regarding treatment for gum disease in Mount Pleasant, SC, can request appointments through the website or by directly calling Dr. Hogan's office at (843) 639-5044.
About the Doctor
Dr. Kevin Hogan is a general dentist providing individualized care for patients in Mount Pleasant, SC. Dr. Hogan is a graduate of the Indiana University School of Dentistry and has completed hundreds of hours of continuing education courses to stay contemporary with the latest dental technologies. In addition, he has also completed coursework with the Dental Organization for Conscious Sedation and has lectured at the University of North Carolina, Emory University, the Saginaw Valley University and AUA-American University of Antigua on head and neck anatomy and oral pathology. Dr. Hogan is a member of the American Dental Association, International College of Cranio-Mandibular Orthopedics, Academy of Laser Dentistry, International Association of Physiologic Aesthetics, Institute for Advanced Laser Dentistry, DOCS (the Dental Organization for Conscious Sedation), International Congress of Oral Implantologists and the South Carolina Dental Association. He is also a past member of the American Straight Wire Orthodontic Association, Maxillofacial Orthopedic Growth and Development, the American Academy of Pediatric Dentistry and the Functional Orthodontic Society. He and his team are dedicated to providing exceptional oral care to patients through personalized treatment plans. To learn more about the services offered by Dr. Hogan, please visit his website at http://www.smilesbyhogan.com or call (843) 639-5044.