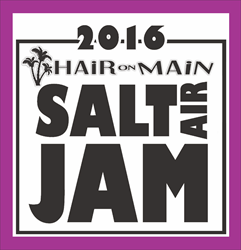 Finding a cure cure for CF is very important for us! Adding tomorrows.
North Myrtle Beach, SC (PRWEB) May 11, 2016
The second annual Hair On Main Salt Air Jam is scheduled for Friday May 13, 2016 at the North Myrtle Beach Park & Sports Complex. Gates open at 5 PM and the Concerts begins at 6 PM with Jim Quick & Coastline, The Tim Clark Band, and DJ Mike Worley of the Edge Radio Show on ShagCityUSA.com. In addition to Title Sponsor Hair On Main, this year's event is presented by Shag City ® and Gentry air along with associate sponsor Seaside Vacations.
Tickets are on sale now online at http://saltairjam.com/order-tickets/ for $10. They will be $15 at the gate. Proceeds from the Salt Air Jam will benefit Cystic Fibrosis (CF).
Cystic fibrosis is a life-threatening, genetic disease that causes persistent lung infections and progressively limits the ability to breathe.
In people with CF, a defective gene causes a thick, buildup of mucus in the lungs, pancreas and other organs. In the lungs, the mucus clogs the airways and traps bacteria leading to infections, extensive lung damage and eventually, respiratory failure. In the pancreas, the mucus prevents the release of digestive enzymes that allow the body to break down food and absorb vital nutrients. Salt air near the beach is therapeutic for CF patients.
Special guest Matty Russo of the band Matty Begs will perform his new single "The Beach" in a duet with his 9 year old daughter Sicily. "The Beach" is written about the benefits of salt air for CF patients. Sicily has CF.
For more information visit the website at http://saltairjam.com