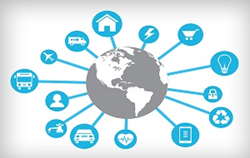 Boulder, Colo. (PRWEB) May 05, 2016
Enterprise Management Associates (EMA), a leading IT and data management research and consulting firm, today announced it will host a research webinar titled "The Rise of the Internet of Things: Connecting Our World One Device at a Time" featuring John L. Myers, managing research director of business intelligence and data warehousing at EMA.
The Internet of Things refers to the growing network of physical objects that feature an IP address for Internet connectivity and the communication that occurs between these objects, other Internet enabled devices and the backend systems that monitor, manage and support them. To take IoT to the next level and fulfill its promise, organizations need to place into context, analyze and act upon the information from these interconnected devices.
Looking at how IoT strategies and technologies impact organizations, Myers will detail how the expanding world of device sensors impact organizations, specifically in the manufacturing, retail, healthcare, and transportation industries. He will also cover:

The use cases organizations implement as part of their IoT strategies
Champions who drive those use cases
What devices are implemented in IoT ecosystems
How and where analytics are implemented for IoT
IoT ecosystems and how they implement technologies such as advanced analytics, streaming data platforms and the - EMA Hybrid Data Ecosystem (HDE) to implement their vision for a sensor-driven future
The webinar is Thursday, May 12 at 2:00 p.m. EDT. Those who wish to attend can register at: http://research.enterprisemanagement.com/the-rise-of-the-internet-of-things-webinar-pr.html
About EMA
Founded in 1996, Enterprise Management Associates (EMA) is a leading industry analyst firm that specializes in providing deep insight across the full spectrum of IT and data management technologies. EMA analysts leverage a unique combination of practical experience, insight into industry best practices, and in-depth knowledge of current and planned vendor solutions to help its clients achieve their goals. Learn more about EMA research, analysis, and consulting services for enterprise line of business users, IT professionals and IT vendors at http://www.enterprisemanagement.com or blogs.enterprisemanagement.com.