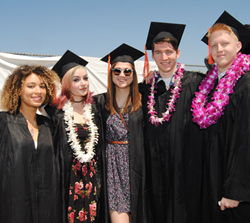 "It is a privilege to recognize these courageous and visionary artists,' says President Bruce W. Ferguson.
Los Angeles, CA (PRWEB) May 04, 2016
Otis College of Art and Design will award honorary doctorates to Rick Lowe, visionary social-practice artist, and Otis alumnus Masami Teraoka ('68 MFA), internationally recognized artist and human rights advocate, at the 2016 Commencement ceremony May 15, 2016.  
Honorary Degree recipients are selected for their substantial contribution to their field and for embodying the College's values and mission. Both Teraoka and Lowe exemplify the transformational and critical role the arts play in our society and offer lifework to which the students graduating this May can aspire.
Lowe, who will be serving as commencement speaker, originally trained as a painter in Houston, where his focus on the urgent social, economic, and cultural needs laid the groundwork for his pioneering socially-engaged art. In the early 1990s, with a group of fellow artists, he combined art, empowerment, and community organizing to buy and restore 22 derelict houses in a predominantly African-American section of Houston.  Entitled Project Row Houses, the visionary architectural preservation project earned Lowe a MacArthur Fellowship or "Genius Grant" in 2014. Lowe's work has been exhibited at prestigious venues including the Museum of Contemporary Art in Los Angeles, Houston's Contemporary Arts Museum and Museum of Fine Arts, the Gwangju Biennale in South Korea, and the Venice Architecture Biennale.  
Teraoka is a renowned artist and human rights advocate who's work explores difficult subject matters through fantasy, humor, history, and wry observations on present-day life. In the 1970s, he became recognized for his distinctive, modern versions of Ukiyo-e prints imbued with personal commentary, taking on issues such as the clash of Eastern and Western cultures.  More recently, his work has addressed social and political controversies through large-scale narrative paintings that combine elements of the Japanese woodblock print with inspiration from Renaissance church art. Teraoka earned his MFA at Otis College of Art and Design in 1968.  He has had over 70 solo exhibitions around the world, including exhibitions at the Whitney Museum of American Art, The Contemporary Museum, Honolulu, and the Arthur M. Sackler Gallery, Smithsonian Institution.
"It is a privilege to recognize these courageous and visionary artists,' says President Bruce W. Ferguson. "Rick Lowe has empowered communities to use new forms of art-making in response to social challenges and Masami Teraoka employs his stunning artwork to confront larger global issues. The role of the artist in society has been transformed and expanded by these two leaders and Otis is honored to acknowledge their groundbreaking achievements."
Sharon Kellermann, a senior in the Product Design program, is the valedictorian for the Class of 2016 and will give the valedictory address. Kellermann was chosen for her consistently stellar academic performance, she has been on the Dean's List each term throughout her studies, and the exceptional quality of her product concepts exceptional quality of her work, which has focused on facilitating communication and translating complex ideas into captivating product concepts for everyday use. During her time at Otis, Kellermann interned at Williams-Sonoma in San Francisco and Nickey Kehoe in Los Angeles.
In conjunction with Commencement, Otis College of Art and Design's Annual Exhibition, May 14–15, will be open to the public, and showcases work by members of the Class of 2016. For more information on the Annual Exhibition visit http://www.otis.edu/calendar/class-2016-annual-exhibition.
COMMENCEMENT DETAILS 
Sunday, May 15, 2016, 3PM 
Westchester Park (across from the main campus) 
7000 W. Manchester Ave., Los Angeles, CA 90045
ABOUT OTIS COLLEGE OF ART AND DESIGN
Established in 1918, Otis College of Art and Design is a national leader in art and design education. The College mission is to prepare diverse students of art and design to enrich our world through their creativity, skill, and vision. Alumni and faculty are Fulbright, MacArthur, and Guggenheim grant recipients, Oscar awardees, legendary costume designers, leaders of contemporary art movements, and design stars at Apple, Anthropologie, Patagonia, Adobe, Pixar, DreamWorks, Mattel, Nike, and Disney.
Otis enrolls approximately 1,100 full-time students, and offers Bachelor of Fine Arts degrees in Architecture/Landscape/Interiors, Digital Media (Game and Entertainment Design, Animation, and Motion Design), Fashion Design, Communication Arts (Graphic Design, Illustration, and Advertising Design), Fine Arts (Painting, Photography, and Sculpture/New Genres), Product Design, and Toy Design. Otis also awards the Master of Fine Arts degree in Fine Arts, Graphic Design, Public Practice, and Writing.
The five-acre main campus is located on L.A.'s Westside near the beach and LAX; the Graduate Studios are in nearby Culver City, and in the 18th Street Arts Center in Santa Monica.
2,700 adults and children participate in Continuing Education art and design classes and workshops.
Additional information is available at http://www.otis.edu.