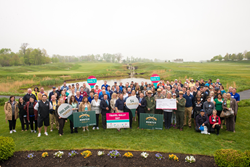 Montgomery County, Pa., has more than 300,000 yards of golf," says VFTCB President and CEO Mike Bowman. "Placed end-to-end, they would total 170 miles.
King of Prussia, Pa. (PRWEB) May 06, 2016
As part of its May 2 Travel Rally Day, part of National Travel and Tourism Week, the Valley Forge Tourism & Convention Board launched its latest brand: Destination Montco Golf.
The initiative – comprising a multifaceted ad campaign, golf-centric website and social media component – is designed to attract players to 54 of the most historic, scenic and challenging holes in the nation.
Montgomery County's agrarian history, which dates back to its Colonial beginnings, proved over the decades to be foundational to today's golf industry. Former farmland provided ample real estate for the growth of golf courses, which attracted several high-profile designers that include Donald Ross, the founding member and first president of the American Society of Golf Course Architects. The county cites the fact that there is not a single zip code within its borders that doesn't have at least one location for a round of golf.
"Montgomery County has more than 300,000 yards of golf," says VFTCB President and CEO Mike Bowman. "Placed end-to-end, they would total 170 miles.
"It's just one of the many tourism assets we are lucky to support," he continues, "which makes our announcement during Travel Rally Day particularly fitting. We are also celebrating milestones like the centennial of the founding of the National Park Service, which resonates here because of the location of Valley Forge National Historical Park."
The VFTCB site includes not only details on courses, yardage, holes and history but also information useful in using a golf outing as the cornerstone to a weekend escape. Families can enjoy the Elmwood Park Zoo in Norristown; history buffs can explore the VFTCB's historic itineraries, Patriot Trails; seekers of fine cuisine can enjoy top-rated restaurants in a variety of flavor profiles and traditions.
Local estimates indicate golf bringing $80 million per year into Montgomery County, including sales of services, food, beverages and merchandise. On a national level, golf is a $69 billion producer each year, a figure that swells to $177 billion when travel-tourism dollars are included.
Bowman's vision for Destination Montco Golf is both long- and short-term. The immediate focus for the brand includes the July arrival of delegates to the Democratic National Convention.
"The golf information on our website will be key to how we engage attendees at the Democratic National Convention this summer," Bowman says. "In the downtime before or after the official agendas, if delegates want to play a round of golf, they will have plenty of recommendations. We will also serve as a resource to facilitate visits to our 500 restaurants, nine historic sites, 90 miles of trailways, 24 museums and 19 theaters and performance venues."
Montgomery County, Pa., will serve as "home away from home" for 21 delegations – both domestic and international – arriving in July for the convention.
The VFTCB's golf information is found at valleyforge.org/golf.