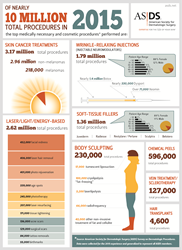 ASDS members are trained in the latest technologies and best techniques in a wide range of minimally invasive options to provide patients with the first-rate care they deserve and expect.
Rolling Meadows, Ill. (PRWEB) May 05, 2016
Dermatologic surgeons performed nearly 10 million medically necessary and cosmetic procedures in 2015 – 5 percent more than 2014 and up 27 percent since 2012.
The results of the 2015 ASDS Survey on Dermatologic Procedures released today reveal a variety of trends – including another annual increase in skin cancer treatments and the growing popularity of soft-tissue fillers and body sculpting procedures.
For the fourth year in a row, skin cancer treatments ranked as the most-performed procedure (3.17 million) by ASDS members – confirming both the growing incidence of the disease as well as demand for member expertise of its treatment. Since 2012, skin cancer treatments have risen 18 percent.
Members also performed 6.7 million cosmetic treatments in 2015 – with the largest year-to-year growth seen in soft-tissue fillers (35 percent) and body sculpting (11 percent).
"ASDS members are trained in the latest technologies and best techniques in a wide range of minimally invasive options to provide patients with the first-rate care they deserve and expect," said ASDS President Naomi Lawrence, M.D.
Cosmetic procedures popular
The top cosmetic treatments in 2015 were:

2.62 million laser, light and energy-based procedures – Devices treat a variety of skin conditions, including facial redness, excess hair, age spots, scars and birthmarks as well as being used for tissue tightening and skin resurfacing.
1.79 million neuromodulators – Injectable wrinkle-relaxers temporarily smooth fine lines on the face.
1.36 million soft-tissue fillers – These injectables temporarily level wrinkled skin, plump lips and raise depressed scars.
596,000 chemical peels – A solution applied to the skin causes it to exfoliate and eventually peel off, revealing new, smoother skin.
230,000 body sculpting treatments – Procedures ranging from "fat-freezing" to radiofrequency to injectables help remove stubborn fat.
Each of these popular minimally invasive cosmetic treatments was pioneered by dermatologists, according to a first-of-its-kind scientific study published in the March issue of the Dermatologic Surgery journal. This unbiased analysis of the medical literature revealed dermatologists as the premier innovators in 14 of 18 cosmetic medical treatment categories.
"With the growing popularity of non-invasive cosmetic treatments, this pioneering research can help consumers decide which specialist might be the optimal provider of a certain procedure," said Lawrence. "These research results reinforce why the public should trust dermatologists above all others for cosmetic medical guidance."
Skin cancer still on the rise
As skin cancer rates continue to rise, dermatologic surgeons provide expert diagnosis and treatment while remaining committed to educating the public about prevention methods.
Of the 3.17 million skin cancer procedures performed by ASDS members in 2015, 218,000 were for melanoma, a 5 percent increase over 2014. Treatments for non-melanoma also increased slightly.
ASDS members take a comprehensive approach toward the management and prevention of skin cancer – from offering patients treatment options to promoting sun-safe behaviors and skin cancer screenings, Lawrence said.
"The sustained growth in the wide range of skin cancer and cosmetic procedures that ASDS members perform continues to provide evidence of the public's recognition that we are the experts in the health, function and beauty of the skin," she said.
About the survey
Data were collected for the 2015 experience and generalized to represent all ASDS members. The survey was conducted Jan. 4 to Feb. 5, 2016, for data reported in 2014. The survey link was sent to 3,832 practicing members. Survey results are reported based on 563 physicians, or a 14.7 percent response rate.