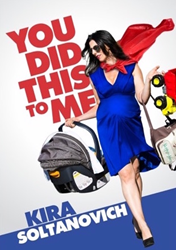 Studio City, CA (PRWEB) May 04, 2016
Comedian, Wife & Mother, Kira Soltanovich is a perfect example of juggling it all from life on the road to marriage, kids and self-producing her own special while 7 months pregnant with swollen ankles, cravings and all that comes with preparing for baby. A true passion project, Kira filmed her special on Mother's Day 2015 and one year later, not only does she have a beautiful baby girl, but her latest special "You Did This To Me" has come into the world via Amazon, Google Play and iTunes. Hormone crazed and pregnant, in "You Did This To Me", Kira Soltanovich gets real with the trials and tribulations of pregnancy, birthing and raising kids. Putting her belly on the line, she hones in her maternal instincts in this hard-hitting, labour of love comedy special. "This is truly my crowning glory" shared Kira "and I'm so grateful to all the fans and supporters that helped me conceive it." "You Did This To Me" was self-funded by Kira, her friends, family and a supportive crowd-funding effort by her fans. Having offered up unique crowd-funding prizes, one generous supporter even donated $20,000 to the special, giving them the option of suggesting the name of Kira's daughter.
About Kira Soltanovich: Kira grew up in San Francisco and began her comedy career in 1998. Kira's television career began with a four year run as a series regular on the hit hidden camera series "Girls Behaving Badly" followed by an eight year run as a correspondent on "The Tonight Show With Jay Leno". For over 15 years, Kira Soltanovich has toured the world performing in countries such as South Africa, Australia, Japan, Israel, Cuba and more. As a stand-up, Kira has appeared on "Jimmy Kimmel Live", "Last Call With Carson Daly", "Last Comic Standing", "Hello Ross!" and "The World Stands Up". In 2012, Kira taped her first special "Here Comes Trouble". Kira is also the host of her very own podcast, "The Kira Soltanovich Show", where Kira interviews fellow comedians with kids and they discuss all things comedy and colic related. Kira can be seen on TruTV's "How To Be A Grown Up" Seasons 1 & 2.
"You Did This To Me" Trailer:
Follow Kira Soltanovich Online At:
Facebook: @comedian-kira-soltanovich
Twitter: @kiracomedy