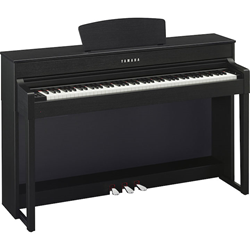 "While other gadgets revolutionized the way we listen to music in our lives, the Clavinova revolutionized the way we make music in our homes," said Dane Madsen, digital piano marketing manager, Yamaha Corporation of America.
BUENA PARK, Calif. (PRWEB) May 05, 2016
Time magazine's most discriminating technology and business editors, writers and reporters have designated the Yamaha Clavinova digital piano as one of "The 50 Most Influential Gadgets of All Time."
The Clavinova was the only musical instrument to make the list, which included other influential products such as the Apple iPhone, Atari 2600, Sony Walkman, Fitbit, Polaroid Camera and the IBM Selectric typewriter.
This exclusive listing cites 50 revolutionary technologies that have forever changed the way humans live, work and play. The team of Time evaluators recognized each product as influential because it was the first model in its category to change the course of technology for good:
"You could argue the Minimoog did far more for music tech, or that the Fairlight was cooler, but visit average U.S. households from the 1980s forward and you're most likely to encounter the Clavinova. Yamaha's popular digital piano married the look and compactness of a spinet (a smaller, shorter upright piano) with the modern qualities of a modest synthesizer. With a plausibly pianistic weighted action and space-saving footprint, it's become a staple for parents looking to bring maintenance-free musicality – you never have to tune it – into households, all without sacrificing huge swathes of living space." – Time magazine
Clavinova comes from "Clavi" meaning keyboard and "Nova" meaning new. Though Yamaha invented the first digital piano – the Clavinova YP-40 in 1983, which spurred the development of an entirely new industry – today's Clavinova is quite different from its earliest incarnations. With the sound, touch and feel of a concert grand piano, this instrument is first and foremost a piano. Yet, groundbreaking features such as USB connectivity to Internet applications, extensive music libraries, as well as Guide Mode and Guide Lamps make it the only 'truly interactive' digital piano on the market.
The Clavinova has altered the way people learn to play piano, and players of all ages and proficiency levels can play instantly.
"While other gadgets revolutionized the way we listen to music in our lives, the Clavinova revolutionized the way we make music in our homes. Beginner or advanced, everyone in the family can make music at their own level with stunning realism," said Dane Madsen, digital piano marketing manager, Yamaha Corporation of America. "Yamaha is gratified to be the only musical instrument recognized in this way by a publication as influential as Time."
Over the course of its evolution, the Clavinova has won an extraordinary succession of honors and rave reviews – more than any other digital piano – from magazine editors, music dealers, consumers, performers and educators. For decades, this popular alternative to the acoustic piano has been the centerpiece of regional Clavinova Festivals that have attracted thousands of enthusiasts over the decades. And it is often the instrument selected for church choir and congregational services. Additionally, due to its compact size, headphones for private practice sessions, extensive music software libraries, and the fact that it never needs tuning, music departments at universities and colleges nationwide have installed Clavinova music labs to give music teachers unparalleled versatility for private and classroom instruction.
"Our commitment to constant improvement in the Yamaha Clavinova digital piano has made it the piano of choice for both families and institutions," added Madsen. "It is ideally suited for the entire breadth of music enjoyment, from performance and composition to educational settings and worship purposes."
Additional information about the Yamaha Clavinova is available at http://4wrd.it/YAMAHACLAVINOVA
-END-
About Yamaha
Yamaha Corporation of America (YCA) is one of the largest subsidiaries of Yamaha Corporation, Japan and offers a full line of award-winning musical instruments, sound reinforcement, commercial installation and home entertainment products to the U.S. market. Products include: Yamaha acoustic, digital and hybrid pianos, portable keyboards, guitars, acoustic and electronic drums, band and orchestral instruments, marching percussion products, synthesizers, professional digital and analog audio equipment, Steinberg recording products and NEXO commercial audio products, as well as AV receivers, amplifiers, MusicCast wireless multiroom audio systems, Blu-ray/CD players, earphones, headphones, home-theater-in-a-box systems, sound bars and its exclusive line of Digital Sound Projectors. YCA markets innovative, finely crafted technology and entertainment products and musical instruments targeted to the hobbyist, education, worship, music, professional audio installation and consumer markets.