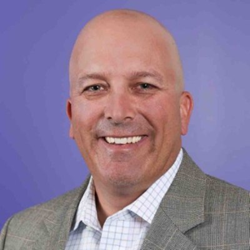 Blueshift has set itself apart by focusing deeply on the needs of consumer digital marketers, to deliver the personalized experience that today's consumer demands
San Francisco, CA (PRWEB) May 05, 2016
Blueshift, the leader in segment-of-one B2C marketing automation, announced today the appointment of Pete Cowing as the company's Vice President of Sales.  A former sales executive at Marketo, Cowing will lead Blueshift's growth as the company brings its next-generation marketing automation solutions to a number of markets worldwide.
Cowing brings more than 20 years of sales experience to Blueshift, having worked at companies such as IBM and Marketo. In both of his previous positions, Cowing sold enterprise business solutions to the largest B2B and B2C marketing companies in the world.
"As we continue to grow our position as the leader in segment-of-one marketing, it is essential that our senior leaders have deep industry experience and an innate understanding of the space," said Vijay Chittoor, Co-Founder and CEO of Blueshift. "Pete encompasses everything we are looking for in a senior sales leader and we are thrilled to welcome him to the Blueshift team."
As Vice President of Sales for Blueshift, Cowing will be responsible for leading Blueshift's growing sales organization, setting the company's sales strategies, and driving the company's revenue goals. Prior to joining Blueshift, Cowing served as AVP of Enterprise Sales, Consumer Industries, at Marketo, where he led a national sales organization responsible for delivering strategic wins in the automotive, financial services, retail and telecommunications sectors. As an early member of Marketo's sales organization, Cowing was instrumental in leading Marketo's move into the enterprise software market where they are now a widely recognized leader. Before Marketo, he worked for IBM and spent three years as distribution sector lead, managing 11 of the largest retail and distribution accounts including Gap, Safeway, Williams Sonoma and Sephora.
"Blueshift has set itself apart by focusing deeply on the needs of B2C marketers, and the personalized experience that today's consumer demands" said Pete Cowing, Vice President of Sales at Blueshift. "I'm excited to be joining a company that is setting the standard for personalization and automation in marketing. Blueshift's recent wins at the Stevie Awards for Marketing & Big Data are just one more example of their excellence in the space, and I look forward to building on that success."
About Blueshift:
San Francisco based Blueshift is the leader in Segment-of-One marketing automation for B2C companies. Using the power of real-time segmentation and dynamic-content personalization, Blueshift enables marketers to automate individualized messages across multiple channels including email, push notifications, Facebook & SMS.  Blueshift was founded by serial entrepreneurs with backgrounds at successful companies such as Kosmix (now @WalmartLabs) and Mertado (now Groupon Goods). The company is funded by prominent venture capital and angel investors, including Storm Venture Partners, Luma Capital Partners and Nexus Venture Partners.