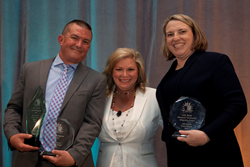 Dallas, Texas (PRWEB) May 05, 2016
T.E.N., a technology and information security executive networking and relationship-marketing firm, honored finalists and winners Tuesday evening, May 3, at the 2016 ISE® Central Executive Forum and Awards Gala at the Sheraton Downtown in Dallas, Texas.
Scott Pettigrew, Vice President and Chief Security Officer of HMS, was selected as the Information Security Executive® of the Year Award winner for the ISE® Central Region. Scott has been working for HMS for approximately 5 years as the first CSO of the company. He came to HMS as a seasoned Security Professional with over 20 years in Information Technology, IT Security, Research & Development, and Strategic Planning. Prior to coming to HMS, Scot held Security Executive positions at American Airlines, and Baylor Health. He has dedicated more than two decades to protecting private, sensitive and confidential information in roles as executive in charge of Security, and as Chief Security Officer. In these roles, he was responsible for developing and overseeing the implementation of a corporate-wide information protection strategy, which addressed all matters related to safeguarding and protecting business and individual information. Over the years Scott has been acknowledged, and honored with many awards as an executive and security professional.
Patrick Reidy, SVP & CISO of L Brands, Inc. was honored during the event as finalists in the executive category. Scott Pettigrew, Vice President and Chief Security Officer of HMS, also won the 2016 ISE® Central People's Choice Award. This award represents the nominee who best exemplifies information security leadership as voted on by his peers in information security.
US Bank's project "Enterprise Tokenization Integration Project" project was selected as the ISE® Central Project of the Year. Marcia Peters, vice president, information security accepted on behalf of the project. The goal of the Tokenization Project was to reduce the amount of sensitive cardholder data stored in U.S. Bank's network, using tokenization technology that replaces the primary account number (PAN) with a surrogate value--the "token." This was a highly complex development project that required mapping of data-flows between applications, partnership with multiple CIOs who had to change applications in specifically orchestrated sequences, and business process re-engineering to remove or reduce use-cases where business processes were formerly using real data that required significant protective controls around it. The result was a dramatic reduction in data that required protection.
Project finalists included Aetna's "Audit Evidence Locker" and HMS's "Physical Access, Surveillance, and Access Governance Program".
"Our judges faced a difficult challenge in evaluating such a high caliber group of executive and project nominees," said T.E.N. CEO and President Marci McCarthy. "Each of them exhibits the innovation and ingenuity for which the ISE® Awards stand and we are honored to have each and every one of join the ranks of our distinguished ISE® Alumni."
Full list of nominees can be found on the T.E.N. website:
Executive: http://www.ten-inc.com/ise/central/exec_nominees.asp
Project: http://www.ten-inc.com/ise/central/project_nominees.asp
The ISE® Central Awards recognize both information security executives and projects for outstanding achievements in risk management, data asset protection, compliance, privacy and network security. Award winners were selected from the U.S. Central region, which includes Arkansas, Illinois, Indiana, Iowa, Kansas, Louisiana, Michigan, Minnesota, Missouri, Nebraska, North Dakota, Ohio, Oklahoma, South Dakota, Texas and Wisconsin. The event is made possible by exabite sponsor: Ionic Security, kilobyte sponsors: Globalscape and Qualys and display sponsors: Bay Dynamics, CloudPassage, Fidelis Cybersecurity, InfoBlox, Novetta, Onapsis, RedOwl, Tripwire and Tufin. Learn more online: http://www.ten-inc.com/ise/central/sponsors.asp
About T.E.N.
T.E.N., a national technology and security executive networking organization, facilitates peer-to-peer relationships between top executives, industry visionaries and solutions providers. Nominated for numerous industry awards, T.E.N.'s executive leadership programs enable information exchange, collaboration and decision-making. Its flagship program, the nationally-acclaimed Information Security Executive® (ISE®) of the Year Program Series and Awards, is North America's largest leadership recognition and networking program for security professionals. Other offerings include The ISE® Lions' Den and Jungle Lounge, T.E.N. Custom Programs and the ISE® Industry Expert Advisory Services, empowering IT solutions providers to gain access to highly credentialed IT business veterans' expertise. For information, visit http://www.ten-inc.com.
About ISE® Award Program Series
For more than a decade, the Information Security Executive® (ISE®) of the Year Award Program Series has empowered security executives and their project teams to Connect, Collaborate and Celebrate. Recognized as the industry's most prestigious IT Security award program, it has become the most anticipated award program for security executives and their project teams. Winners have included executives and project teams from leading organizations such as Nike, The Walt Disney Company, the United States Postal Service, Schlumberger, Texas Instruments, JPMorgan Chase & Co., Equifax, Comcast, PayPal, Northrop Grumman Corporation, and Nationwide.
Our distinguished ISE® Judges are past nominees representing a cross section of industries, including commercial, government, health care and academic sectors. For this reason, the ISE® Awards represent the best achievements of the year as evaluated by those regarded as the industry's most influential and successful thought leaders. Coupled with a one or two-day executive summit, the ISE® Awards are held across the country and Canada in major cities including Atlanta, Chicago, Dallas, New York and San Francisco. The ISE® Awards Program Series has reached more than 10,000 executives across a broad range of industries and has been a major influence in executives' careers, knowledge sharing, and the development of peer-to-peer relationships.
# # #
Note to editors: Trademarks and registered trademarks referenced herein remain the property of their respective owners.
-END-