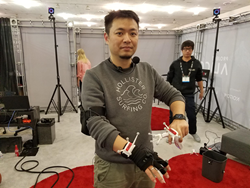 As VR technology continues to expand beyond just gaming, a concept such as Project Alice can play an integral part in the future of VR for the commercial industry.
San Jose, California (PRWEB) May 05, 2016
Project Alice, the newest product from leading motion capture company, Noitom, was among the most well-received booths at this year's Silicon Valley Virtual Reality Conference and Expo in San Jose, where attendees lined up all week to experience the multi-user, low latency, interactive, virtual reality setup developed for the commercial market.
During the three-day conference, which ended last Friday, attendees that signed up for demo sessions at the Project Alice booth were allowed to enter up to four at a time where they were then led through the immersive demo by a member of the Noitom team. Participants were given a HMD and a hand-held controller before being taken into various virtual scenarios that they had the capability of moving through while interacting with each other as well as with several real-world objects that were tracked within the virtual world. Interactive experiences within Project Alice included blowing balloons, shooting lasers and throwing objects. Sessions booked up quickly as attendees of the conference spread the word about the dynamic demo which was among the most popular of the conference.
"For us, SVVR is by far the best event of its kind for the VR industry and we are very happy to have had the chance to take part in it," says Dr. Tristan Dai, CTO of Noitom and creator of Project Alice. "As VR technology continues to expand beyond just gaming, a concept such as Project Alice can play an integral part in the future of VR for the commercial industry. With this multi-faceted platform, businesses have a complete simulation and virtual training solution that delivers high quality, immersive environments at reasonable costs. SVVR provides the perfect setting for introducing a platform such as Project Alice."
SVVR, the annual conference that caters to professionals within the VR industry, had many attendees who were eager to try the Project Alice demo which offered body and hand tracking in VR—an exciting concept for many.
Project Alice is unique in that it utilizes IMU sensors—the same technology that is part of their Perception Neuron motion capture system—and optical cameras to capture the motion of the users and objects. By combining the two elements, Project Alice can offer multiple-user interaction capability, precise and low-latency hybrid tracking of HMD and physical objects, and a large dimension space. The use of IMU sensors reduces the number of expensive cameras that are needed for the capture, thus making it more cost-effective. This combination of IMU sensors and optical cameras also allow Project Alice to function with zero occlusion and precise accuracy.
"We have four key areas that we focus on with Project Alice," says Roch Nakajima, director of international marketing for Noitom. "Low latency, multi-user, large space, and low cost." With a price tag ranging from $80,000 to $100,000, Project Alice is not intended for consumers, but due to the use of IMU sensors, Noitom can undercut the price of similar commercial motion capture setups running upwards of $200,000.
"For that price, customers will get the 30×30 multiplayer VR experience that includes: about 8 cameras (depending on the scope), all of the servers and computers, five high-end VR headsets, Noitom's custom motion tracking elements, and 10 proprietary controllers."
Noitom garnered substantial press coverage for Project Alice at SVVR, including from publications such as UploadVR and the Silicon Valley Business Journal.
Project Alice is being developed in association with several global partners. Hardware support is being provided by global PC leader Lenovo and graphics processor powerhouse NVIDIA. Software and content support is being developed in cooperation with Chinese media giant Alpha Animation, Swiss VR house Kenzan Studios and mobile phone technology innovator Smartisan.
Prices and tracking equipment for Project Alice can vary depending on the customer's specific needs. Noitom expects to install its first US Project Alice system by the end of Q4 2016.
To learn more about Noitom, visit noitom.com. For inquiries about Project Alice, please email alice(at)noitom(dot)com
Founded in 2011, Noitom Ltd. works with a team of dedicated engineers who develop world-class motion capture technology for consumer and industrial markets through the integration of MEMS sensors, pattern recognition, human kinetics and wireless transmission. Noitom is an international leader in innovative technology for use in animation, film, medical applications, robotics and gaming. Noitom is headquartered in Beijing with affiliate offices in Shanghai and Shenzhen. The company also has two US offices located in Miami and Scottsdale. For further information about Noitom and its services, please visit, http://www.noitom.com. For general inquiries, please email info(at)noitom(dot)com.