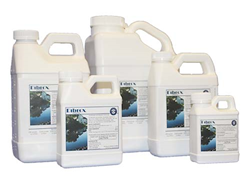 We are very excited to add a liquid herbicide that will tackle pondweeds and lake weeds so our valued customers can enhance their summer experience and enjoy their pond and lake at its best!"
Rogers, MN (PRWEB) May 17, 2016
Pond and lake weed control products and service provider Lake Restoration of Rogers, MN, today announced that it has released a new pond and lake weed herbicide, Dibrox™ Herbicide. Dibrox™ Herbicide controls a wide range of floating and submerged weeds in ponds and around docks. Dibrox™ Herbicide contains the same active ingredient as Diquat and Reward® herbicide and is quickly absorbed by plants to easily control duckweed in ponds and submerged weeds in ponds or lakes.
Dibrox™ Herbicide will now be a part of Lake Restoration's signature pond and lake weed control kits, PONDRestore® and Restore Access®. The PONDRestore® kit includes Dibrox™ Herbicide, Mizzen® Algaecide, SparKlear® and Sapphire Bay® Blue Pond Dye. The Restore Access® kit eliminates submerged lake weeds, algae and muck around dock or swimming areas and includes Dibrox™ Herbicide, Mizzen® Algaecide and Muck Maid® muck eliminator. Whether a pond or a lake, Lake Restoration has a complete do-it-yourself weed control kit for controlling nuisance algae and pond or lake weeds.
"Dibrox® Herbicide is a great and affordable addition to the herbicides that we already offer to our customers," says Chad Hadler, VP of Operations at Lake Restoration. "We are very excited to add a liquid herbicide that will tackle pondweeds and lake weeds so our valued customers can enhance their summer experience and enjoy their pond and lake at its best!"
Dibrox™ Herbicide can easily be applied to your pond or lake using the TORMADA® product application boat. The TORMADA® is an unmanned lightweight boat that enables ponds and dock areas to be treated for weeds and algae without launching a manned boat or using a backpack sprayer. The TORMADA® is easy to use, and has a simple set up. Easily treat the water right from the shoreline and drive your weeds and algae away.
Lake Restoration sells many traditional herbicides and algaecides in its online store. Dibrox™ Herbicide, a Lake Restoration product, is available in five sizes: 8 ounce ($14.85) treats 1,000-2,500 square feet, 1 pint ($21.99) treats 2,500-5,000 square feet, 1 quart ($33.75) treats 5,000-10,000 square feet, Half Gallon ($58.00) treats 10,000-20,000 square feet, and 1 Gallon ($101.00) treats 20,000-40,000 square feet.
About Lake Restoration
Lake Restoration, located in Rogers, MN, has been restoring the beauty of lakes and ponds since 1977. Every year, thousands of satisfied customers use Lake Restoration products to keep their ponds, lakes, and other water features in pristine condition. Lake Restoration offers a complete line of exclusive, simple, do-it-yourself solutions to treat a variety of pond and lake weed maladies. To learn more about controlling pond and lake weeds and products and services to accomplish this, visit LakeRestoration.com.