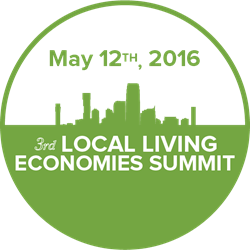 Jersey City, NJ (PRWEB) May 05, 2016
Small businesses are the lifeblood of local economies, making substantial contributions through job creation and strengthening the local tax base. However, while big businesses have bounced back after the recession, small and very small businesses continue to wrestle with growing their businesses, even as the trends towards self-employment and freelancing are on the rise.
It's against this backdrop that Rising Tide Capital, the Ignite Institute at Saint Peter's University and the Local Living Economy Working Group are hosting their third annual Local Living Economies Summit on May 12 at the MacMahon Student Center at Saint Peter's University. Sponsored by Verisk, SIMS Metal Management amongst other local partners, the all-day event brings together the entire ecosystem of the local economy—government, local business development organizations, anchor institutions, local non profit organizations, entrepreneurs and businesses large and small. Through a series of workshops grounded in the principles of localism, the goal of the conference is to stimulate practical solutions that attendees can commit to in order to create an economy that is fair and equitable for all.
"This will be our third summit and my hope is that we begin the process of actually creating an 'inclusive economy' right here in Jersey City," said CEO of Rising Tide Capital Alfa Demmellash. "This can only happen when each layer of our economic ecosystem is operating optimally-- there is no flourishing economy without businesses of all sizes buying and selling from each other. This is where the inclusivity begins."
"The discussions we stimulate during the event, with all of these major stakeholders in the room, have the potential to unlock millions of dollars for local economies. We have the tools, we have the talent, and we're learning about best practices. Let's commit to building an inclusive, thriving local economy," she added.
Workshops, panels and lectures will be delivered by both local and national voices. Facilitators will delve deeply into issues surrounding the intersection of real estate and community development, innovation in social service delivery, and the growing role of higher education and public institutions towards creating opportunity through purchasing and hiring practices.
"Over the last three years, the Local Living Economies Working Group has helped to spur action among Jersey City institutions and businesses. Here at the Ignite Institute, we are excited to co-host the 3rd Summit and continue the conversations and outcomes in Jersey City's rapidly changing urban landscape," Ignite Institute Acting Director, Dr. Mary-Kate Naatus said.
Want to join the conversation? Find out how at summit.risingtidecapital.org
Rising Tide Capital (RTC) is Headquartered in Jersey City with offices in Orange and Newark; Rising Tide Capital, Inc. is a 501(c) (3) non-profit organization founded with the mission to empower entrepreneurs to create and grow small businesses which transform lives and communities. The organization's vision is to build a replicable model for high-quality entrepreneurial development services that can be adopted locally in other low-income communities. To learn more, visit http://www.RisingTideCapital.org.
The Ignite Institute is a Center of Excellence at Saint Peter's University. The Ignite Institute contributes to policy and thought leadership by working with the Local Living Economy Working Group (LLEWG) to discuss the Jersey City Local Economy and identify opportunities for student and faculty involvement in promoting positive change.
The Local Economy Working Group is a coalition of industry leaders across sectors with a vested interest in creating strong local economies through community organization and advocacy. The working group, established during the first annual Local Living Economies Summit in 2013, is composed of professionals across the public, business and non-profit sector working towards a common objective: creating and sustaining an inclusive economy by expanding opportunities in the government and business sector.